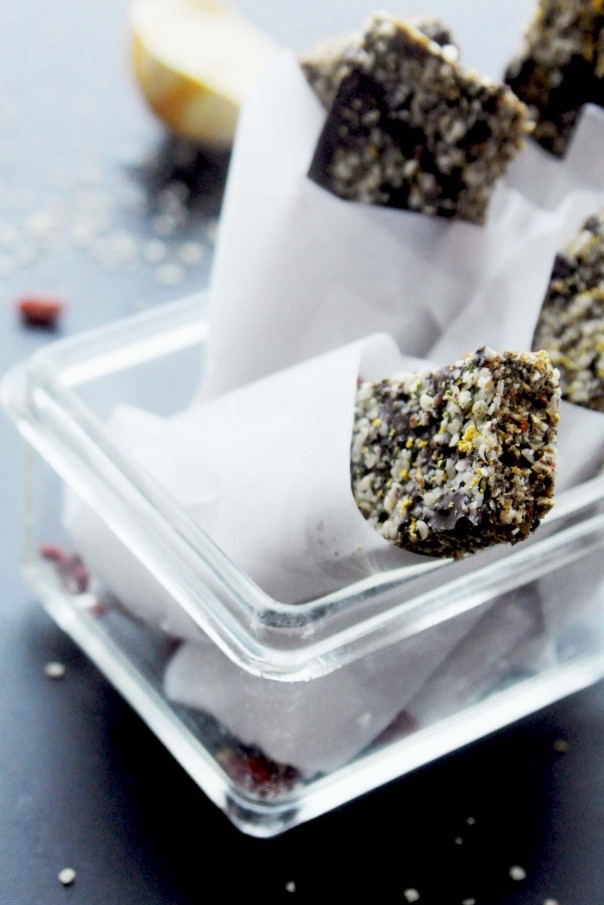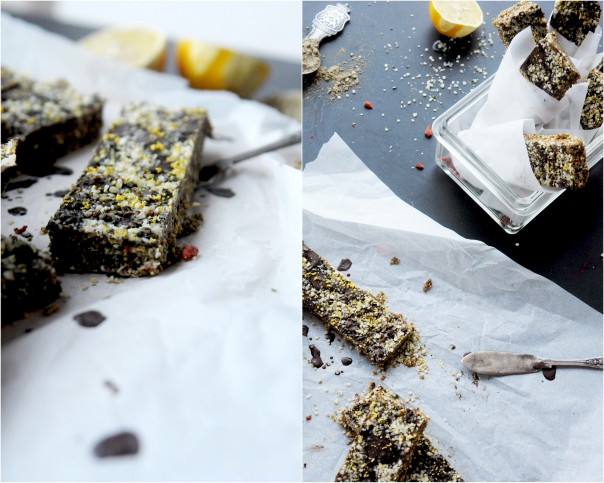 I am blown away. Honestly. I'm like completely off track due to the massive load of love you all decided so send this way after my last post. To think that news like that opens up hearts, gorgeous congratulating words (..and tear canals) is so extraordinary. From the bottom of my heart (and belly!) THANK YOU. It means more then these limiting words of the earth (and my non native English) can say. Please feel my gratitude shining like the spring sun in your beings. Cuz it is. It just is.
Now what about these fabulous bars? Well, I have heard your prayers for a nut free, delicious, protein heavy and overall boosting bar but it all really came together because of a skiing trip that suddenly happened. I was exhausted and to be honest, kind of low so I took my tired-of-being-home-and-pregnancy-sick-self to Bad Gastein, to the absolutely magical and grand mountains covered in snow. Have you ever felt that high, fresh air flow into your lungs while soaking up the sun and swooshing down the slopes? It feels so raw and real. Mother nature rocks my world (and gives me soar leg muscles). These protein boost bars were very needed during breaks overlooking the grandness of this world and a few days in I finally felt like myself again.
A huge plus was Fabian in his skiing clothes and sun touched face taking on those slopes like a god. H-o-t!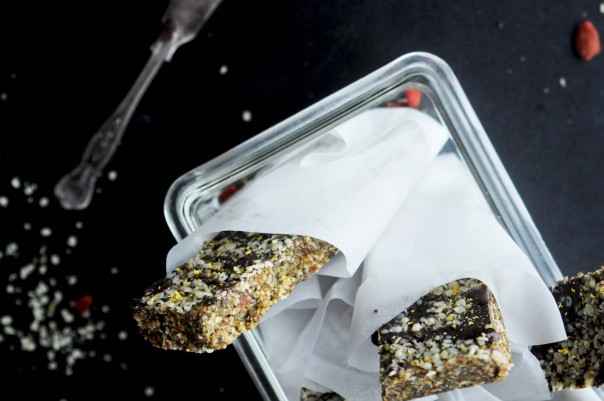 Fun & Fabulous Facts
Are you in on all the cool stuff about hemp non of which include, erm.. smoking it? Cannabis Sativa is a true power plant and actually one of the earliest domesticated plants known. Of the approximately 2000 varieties, about 90% of them contain very low amounts of THC (the "drug" substance). I know I have talked about how caring for the bees can save the world but do you know what else can save the world? You guessed it. Hemp! This super cool plant can be used for making textiles, clothing, biodegradable plastics and even for construction. Other then that, hemp is insanely nutritious so bring it into your kitchen in the form of oil, hemp hearts, hemp powder and whole hemp seeds. You´ll get some amazing fatty acids, protein (it´s a COMPLETE protein!), fiber, minerals and the list goes on and on. For these bars I have used both hemp hearts and hemp protein powder which means they are so loaded with goodies it's insane. No more chem & sugar heavy energy bars when you are hitting the gym. This is the real effing deal so say hi to hemp!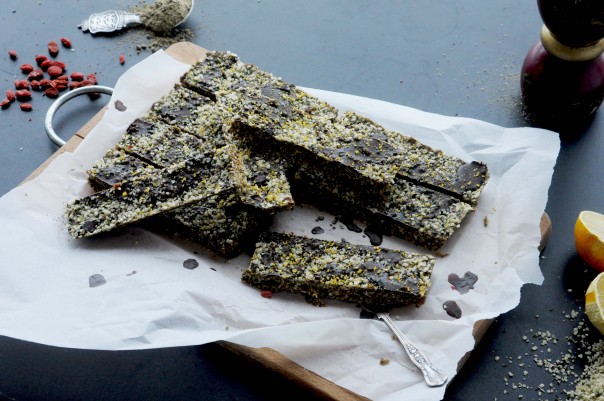 Raw Protein Boost Bars
These are lifesavers (or shall I say muscle & energy savers). Something nurturing to bring to the gym, the alpes, the yoga shala or why not along for a hike or as an afternoon snack on the go. I know you get how versatile these are;) The thing that I wish to highlight is their pure clean power with no preservatives, chemicals or unnecessary sweeteners. Plus they are gluten and nut free, not to mention crazy easy to make and store.
Makes around 10 bars
1 1/3 cup rolled oats
1 1/3 cup shredded unsweetened coconut
1.5 cup juicy dates, pitted
5 tbsp hemp protein powder
3 tbsp chia seeds
2 tbsp dried goji berries
1/2 tsp good quality salt
1 tsp freshly cracked black pepper
1 tsp pure vanilla
35 g (1.3 oz) cacao butter (or use coconut oil)
Topping
a large handful of Hemp hearts
the zest of 1 organic lemon
some extra black pepper
Glaze
4 tbsp (heaped) carob powder
4 tbsp (heaped) coconut oil
1/2 tsp pure vanilla
1. Blend the rolled oats and shredded coconut in a high speed blender / food processor until it turns into a flour, add the rest of the ingredients except the goji berries and the cacao butter. Blend until a hard dough is formed.
2. Melt the cacao butter (or coconut oil) carefully over hot water and add it to the blender along with the goji berries. Pulse until all is well combined. Tip: You can also work this mixture with your hands, no blender necessary.
3. Press the mixture evenly into a baking dish covered with either plastic film or baking sheet (so it won't stick). Sprinkle over the toppings and press them down a bit in the "dough" using your hands. Let set in the fridge for 20 minutes while making the glaze.
4. Gently melt the coconut oil over hot water, mix with the carob powder and pure vanilla and drizzle over the form of boost bars. Let rest in the fridge for a few more minutes before cutting into desired size. Store in the fridge for no more than 2 weeks or toss them in the freezer, that works really well too.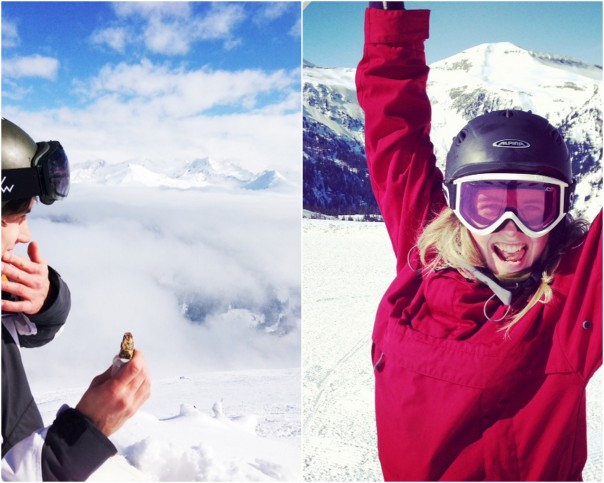 I feel restored, boosted and oh so relieved, like the pieces of me that got lost in those foggy weeks of sickness are finding their way back to my center. The mountains helped me tremendously, dancing on tables at the after ski did too but most of all the love that is within this creation, your support being a big part of that. So again, thank you – we sure are blown away and I'm certain mini sprout is too.
What do you do to restore your sparkle and regain strength? Not that you need to feel like a shiny unicorn all the time but you must have some tricks up your sleeve?

Let's hear it in the comments!



°°Elenore°°