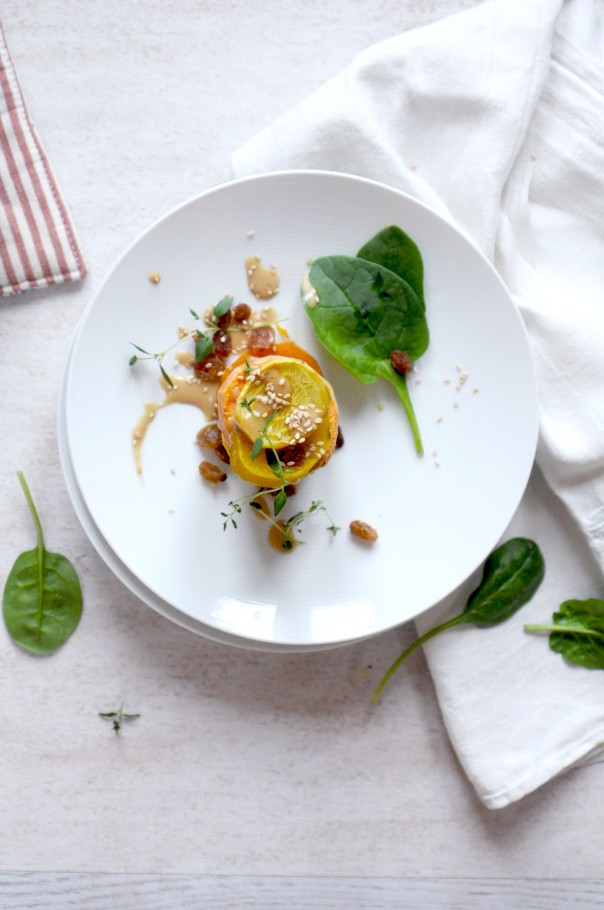 The other night when standing in the bathroom, I had tears streaming down my face (oh gosh this sounds like the beginning of Eat Pray Love..). I had just told Fabian about an email that had really touched my heart but I was telling him about it fast and while brushing my teeth so he stopped me. He looked me in the eyes and spoke the words from that e-mail to me. This is where the tears came.
And so he said; "See what I see, Elenore. Hear what I hear"
My emotions were all over the place but the most prominent feeling was that of deep (and to be honest) pretty overwhelming gratitude. Whoa, this world takes me by storm again and again. In that moment everything was wide open and anything possible. Gratitude does that to a person and that's why I say to you; Go find that G-spot (aka gratitude), baby. It will get you far into that ecstatic life and body of yours. And hey, let's meet there and have a party.
This weeks G-spot disco has definitely been to finalize the new design for this site (what do you think?). Colour explosions, A VIDEO, beautiful header pics and all things gorgeously Greenylicious! There are still a few things to be done but here is a big fat THANK YOU to every single one that made this possible. I am wildly overjoyed to be able to share a new beginning with you all. One that for sure will make us feel ecstatic.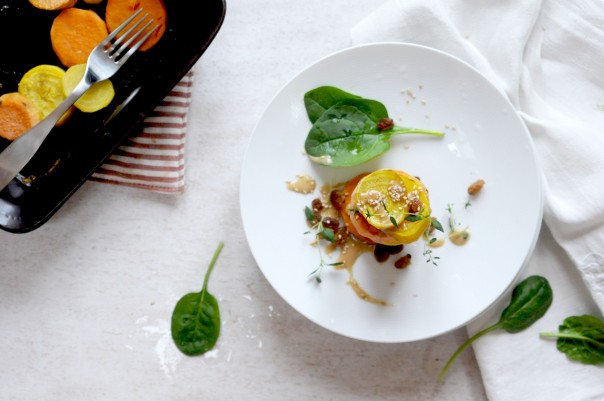 Fun & Fabulous Facts
Undoubtedly there are a lot of detox ideas flying around this time of year. Juice feasts, gym membership cards, de-cluttering and meat free mondays are all over. Because of this I want to share with you a recipe featuring beets today, this little fella can beet the toxic heat in your body bigtime.
Some might choose the red beet over the yellow beet because of it's strong colour after hearing the buzz about phytonutrients and the color of veggies and fruits but get this; the yellow beet that we are using for this recipe is just as brilliant! Did you know that the phytonutrients not only protect our bodies against free radicals, they also carry immunosupportive and cancer-preventative properties. The Betalains, (a phytonutrient in yellow and red beets) also provide our system with powerful help in the detoxification process. You see we all have toxins floating around in our beautiful bodies and these betalains help to get these toxins into our urin and then bye-bye!
Not only does beets get toxins out of our blood, liver and digestive tract, it supports the menstrual cycle too and in roman times, beet juice was used as an aphrodisiac. That veggie tower looks pretty appealing after learning all that, eh?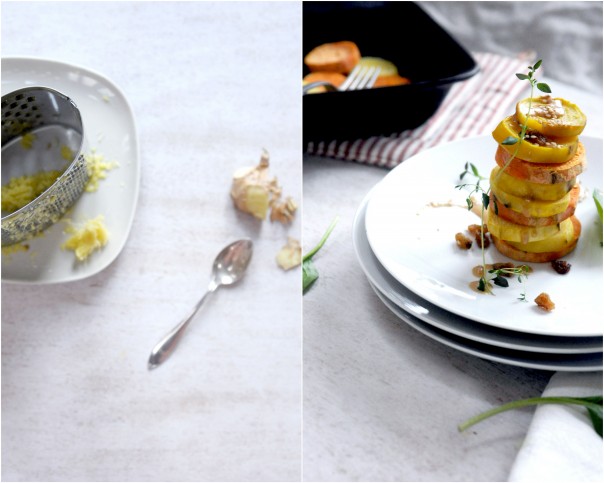 Warm detox veggie tower
If you don't feel like a tower, this recipe can easily be turned into a sweet warm salad in your fave bowl to be eaten as mail course or side dish perhaps together with some sprouts, herbs and quinoa, amaranth or millet. Detoxing has never been so delicious and remember, organic makes this even better!
Veggie tower
2 large sweet potatoes
6 yellow beets
2 inches fresh ginger
Dressing
4 tbsp tahini
1 tsp tamari
4 tbsp water
Topping
2 tbsp unhulled sesame seeds
1 handful raisins, light brown or yellow
1 cup baby spinach
1/2 handful of fresh thyme
1. Preheat the oven to 200°C / 400°F.
2. Peel sweet potatos and beets, then cut into 0.4 inch (1 cm) slices and put in a tin.
3. Peel the ginger using a teaspoon, then grate it and press the juice over the sunny vegetables in the tin using your hands.
4. Put them into the oven and let roast for 20-30 minutes. They are supposed to be a bit firm in the center still.5. Make the dressing by simply mixing the dressing ingredients in a bowl using a fork.
Arrange Stack the vegetable slices onto eachother to form a tower, drizzle the dressing over it and lastly add the sesame seeds, raisins, fresh thyme and  baby spinach to your creation.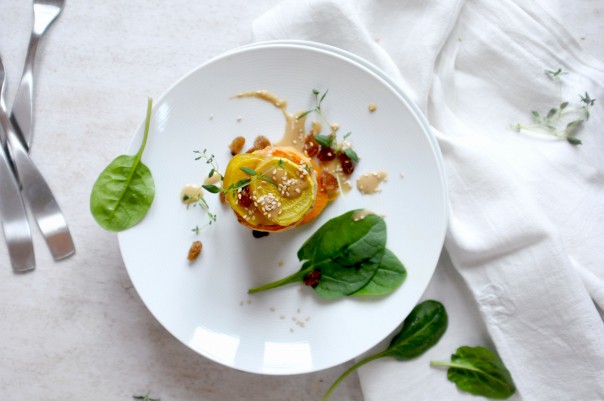 Starting this new year with a sunny veggie tower and hitting the G-spot seems like an amazing way, you in?
 What makes you feel that explosive sensation of Gratefulness? What makes you hit your G-spot? Now share it in the comments below! The more we articulate it, the easier is it to recognize.
From my wild heart to yours,
°°Elenore°°