Crazy nervousness and a fireplace
+ How bringing shining light can be closely related to both of those things. Who would have guessed, right?… and yes, the saffron mini brownies plays a big role in this story too.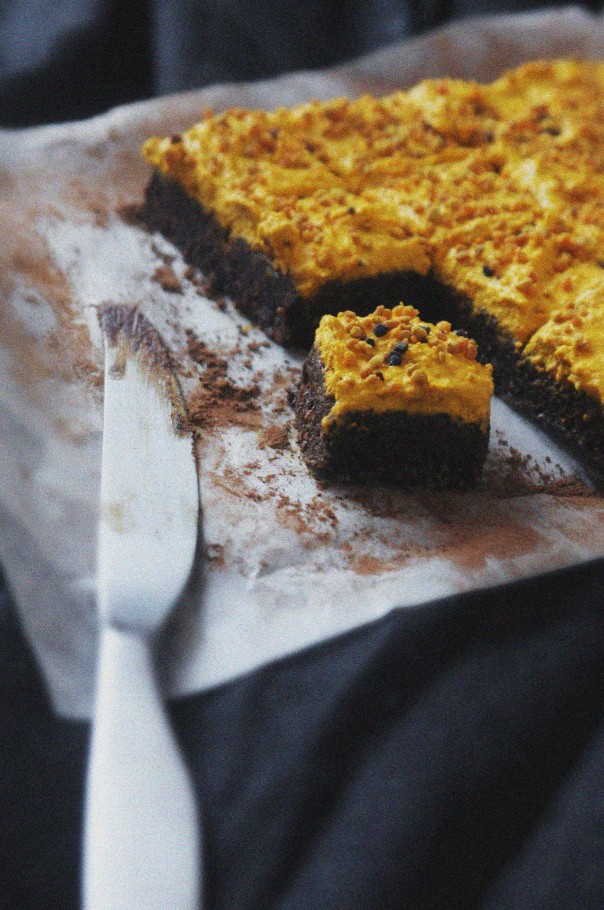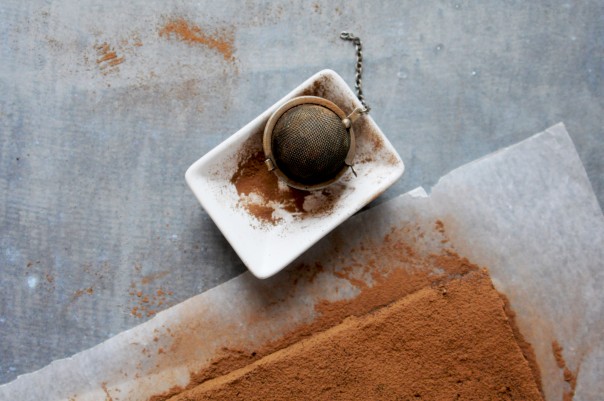 If you'd have popped by our home at 07.27 this morning you would have found me standing (very close) to the fire, wrapped in a big blanket singing "Holy night" into the flames. Why? Because I was disappointed in myself for forgetting an insanely important thing (and then the wise solution is of course to sing "Holy night", duh).
The 13th of December is the day of St Lucia in Sweden and it's also a day very much celebrated in my family. Dark, cold mornings filled with dressing up in long, plain white gowns, glitter and crowns of lights. There was always singing, Swedish saffron buns, hot chocolate, candles and of course the weeks of chorus practice before the actual day. Oh, and the nervous excitement in school when the girl who was supposed to be "Lucia" was chosen.
That Lucia thing is in other words big over here, and who can blame us? It´s pretty damn dark up here this time of year and the day of St Lucia marks the return of the light – the days become longer again. I don't know how it all turned into a slight hysteria of blond girls with angel voices, red ribbons around their waists and a crown of candles (that sometimes make them faint). But I do know that my own blond mess has served me well in that department. Bringing light, songs and beauty to anyone is well worth the crazy ass nervousness.
So how could I forget to wake up Fabian with at least one song and a little candle? I don't know. To my defense I did feed him quite a few of these filled-with-light- saffron brownies AND I did give a performance to the fire. Fixes everything.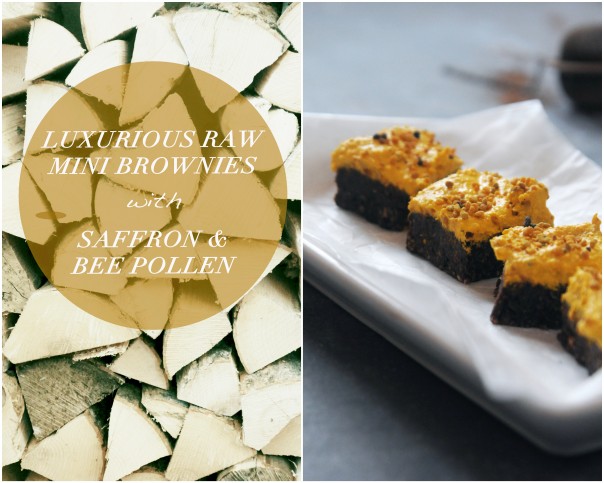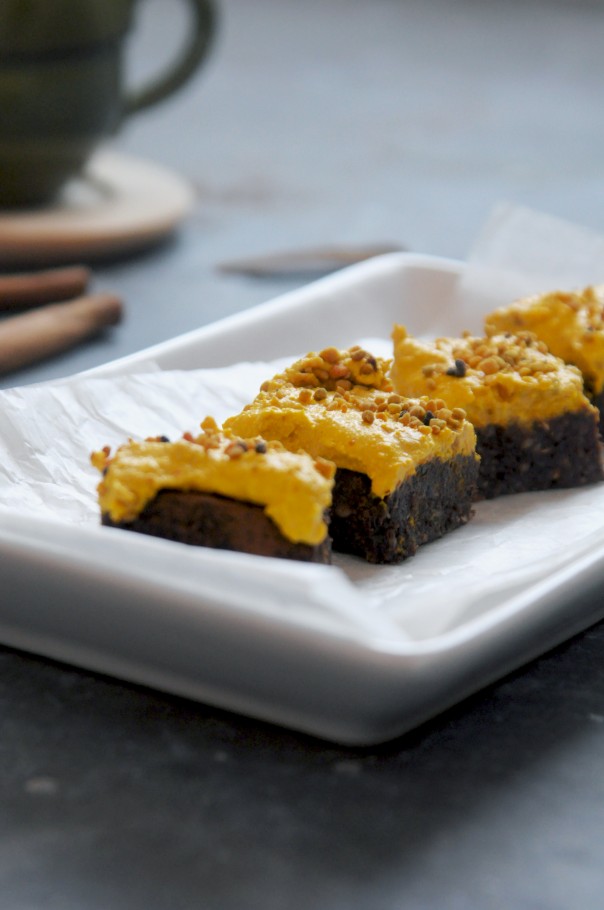 Fun & Fabulous Facts
I have to be honest here. One of the greatest things about celebrating Lucia is still the saffron buns and apparently that has been my firm belief ever since I got started on solid foods (yes, there is photo evidence of that). I even dare say that few swedes eat saffron in any other way on any other occasion, which is such a loss. I mean – what about these brownies!?
Other things can be said about the greatness of saffron, like how sensationally beautiful it is that it's actually a precious part of a crocus flower, Crocus Sativus, and how it's medicinal benefits, flavor and cosmetic value has been loved since the tenth century BC. Medicinally Saffron is used as a blood cleanser but the glorious spice also aid digestion and calm nervousness and anxiety (ha!) . It is said that saffron increases sperm production and works as an aphrodisiac too. Phew, what a mix.
Add the high amount of antioxidants and the fact that this spice is a tridoshic (good for all three auyurvedic doshas) and I bet we can come to the conclusion that this spice is quite the golden ticket to all kinds of good stuff.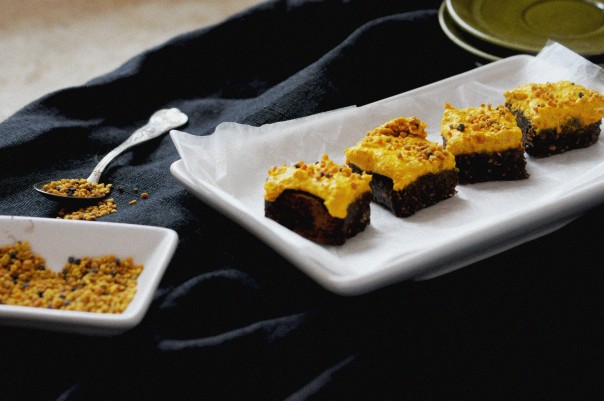 Luxurious brownies with saffron and bee pollen
These little gems are very much a boost of pure goodness during wintertime. They are not fully raw (the coconut cream) or vegan (bee pollen), that being said you can without any problem turn them both raw & vegan with simple steps like using raw coconut manna and perhaps decorate with some beautiful black sesame seeds.
Approx 20 mini brownies 
Brownie
1 cup sunflower seeds
1 cup pumpkin seeds
2 tbsp whole hemp seeds (not hearts)
2 tbsp tahini
8 soft large dates, pitted
3-4 tbsp raw cacao
1/2 tsp pure vanilla (not liquid)
a pinch of Himalayan salt
1 tsp date molasses (can be excluded)
1. Put all ingredients in a food processor and blend until a firm dough has been formed. To dry? add a tsp or two of pure water.
2. Press the dough onto a form/small cutting board/plate covered with plastic film and put in the fridge.
Saffron cream
2 cans of organic coconut milk
0.75 g (2/3 sachets) good quality saffron
2 tbsp coconut nectar/sugar/granulates
2 tsp bee pollen (for decoration)
1. Put the cans of coconut milk in the freezer for 2 hours, then open and scoop out the top layer of creamy white coconut (save the liquid on the bottom for soup).
2. In a mortar, mix saffron and coconut sugar then spoon it into the creamy coconut until fully incorporated and bright yellow.
Assembly
Upon serving, use a spatula to spread the saffron cream onto the brownie square, sprinkle 2 tsp of bee pollen over the Christmas flavored creation, cut and enjoy with a cuppa chai tea.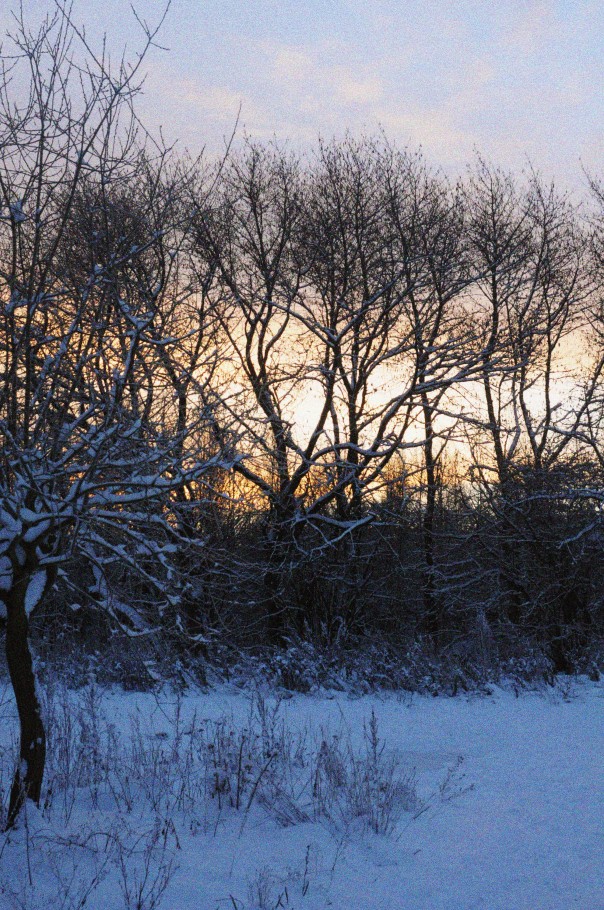 So while the light returns to this corner of the earth I´m going tho enjoy the new moon of today plus go watch The Hobbit! Yay!
Now I know that we are all from different parts of the world here, what flavor pops up in YOUR mind when feeling the holidays draw near? To you have any family traditions of your own? Get on and share it in the comments below <3 Let's inspire each other to new things!
Take the world by storm, babayyy and see you at Twitter & Facebook!
°°Elenore°°