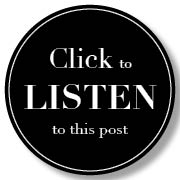 A revolutionizing thought, dammit
You rarely hear me curse but these days I have got to thinking about something that brought out some fierce and fire. Then it's on.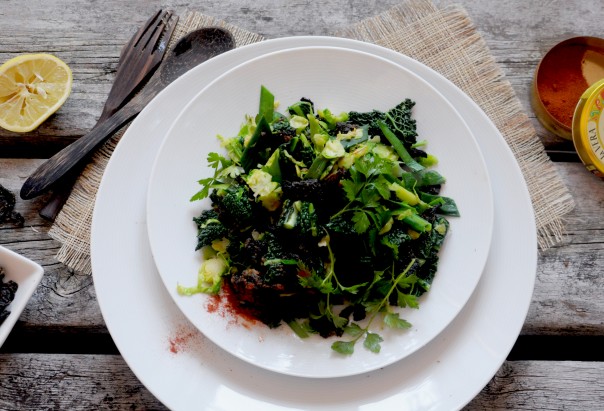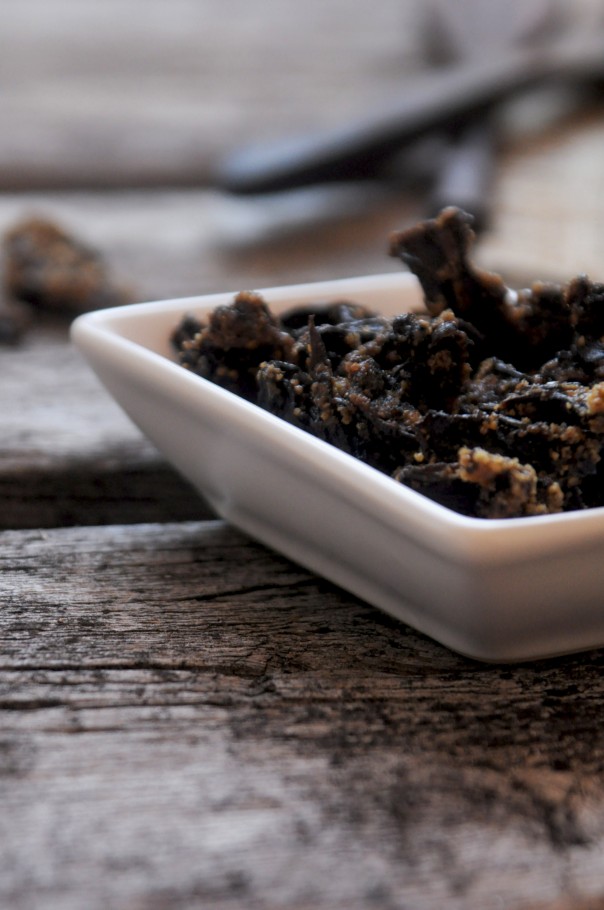 There are tears, giggle, laughter, victory dancing and also times when complete worry strikes. What's going on? A heart project of course. You know the drill.. you work on something for a long time. You let it marinate, develop and take many huge steps before the actual finish line but still the celebration is put on hold until launching.
Success is being measured by the things crossed from our do-to lists. For some the amount of stamps in their passport does the trick.
Something is really screwy here and we need to change the rules.
Are we not worth feeling like a huge success when we find a treasured desire for something and not when we get to the finish line of that same desire?
I want to celebrate success when I get a recipe right on the first try and not stress over that other thing I need to get done instead.
I want to feel like a freaking success when I catch a snowflake and watch the sun rise dressed only in my nighty and winter boots instead of answering those flagged e-mails.
Yup, that's it. I'm quitting this shitty attitude of only focusing on huge goals and launches.
The moments/feelings/desires/meetings that are NOW must be seen as the success stories they are. Today. Not what they coulda, woulda, shoulda someday bring or become.
And yes, this is a story about my first ever product. I will celebrate it's launch like crazy in January (you in?) but for now I think a celebratory dance is in order and blissing out over the fact that right NOW the packages are sitting in that other room looking sexy (as hell..)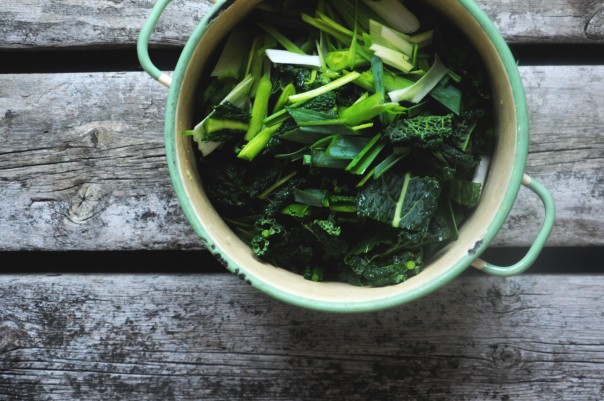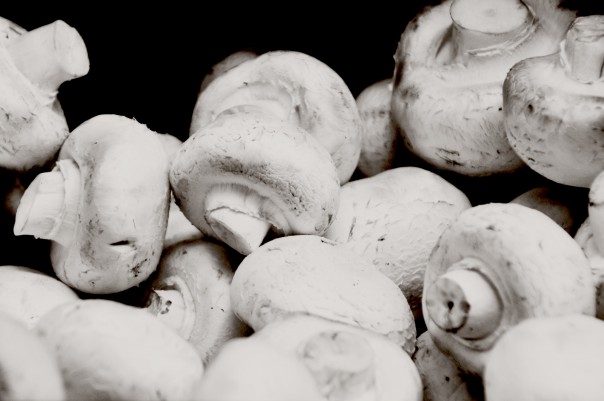 Fun & Fabulous Facts
I remember how we always used to pick field (or white button) mushrooms around my grandparents house. They grew in beautiful circles all over their land and me, my sister and our cousins used to collect them. If no one cooked with them later on they lay forgotten in some basket, serving as this great memory of childhood adventures.
 Since then my interest in creating in the kitchen has changed and the other day when I happened to have some leftover raw sour cream sauce, these crunchy munchies were born out of the bag of field mushrooms.
Mushrooms or fungi does not make use of the sun as other plants, to grow. Mushrooms are in another way more linked to the earth itself as flowering fungus. You may find this rather unappetizing but I think it' pretty beautiful and mushrooms are actually a rich source of glutamic acid so they are a natural flavor enhancer. Gimmie some flowering fungus I say!
Mushrooms are all considered to be able to absorb and then eliminate toxins from the human body but nutrition-wise they are very different from one another. The white button mushroom is not ranked as the top most nutritious ones but it still has an impressive amount of protein (1/3) and a good concentration of minerals like potassium and iron. With all of that in mind, since mushrooms literally grow of the earth their spectra of nutrients is very much dependent on the quality of the soil. Aka, buy organic ones and preferably wild.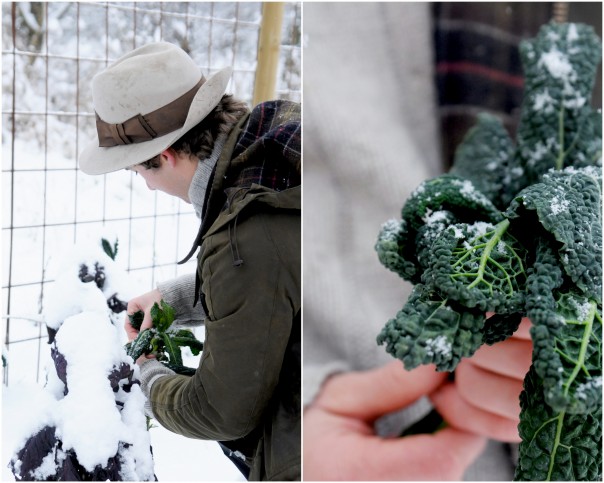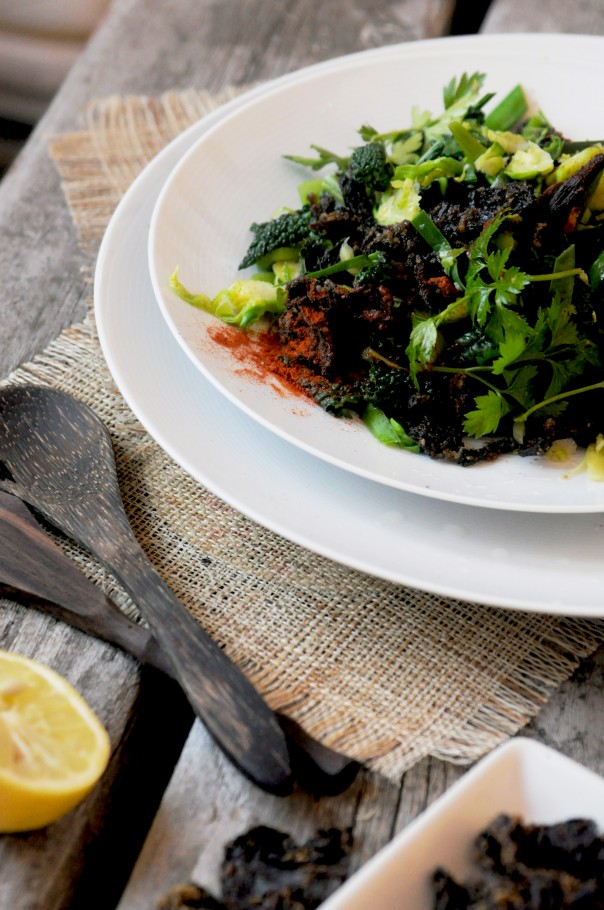 Raw Smoky Mushroom munchies on Steamy Greens
We went into the garden and managed to dig out the last of the greens from beneath the snow. A steamed pile of these beauties are so tasty on their own with some salt, pepper and good quality oil but I had to go and toss over some raw dehydrated smoky mushroom munchies. An awesome touch if I may say so. They will put that extra twist of rock'n roll to any soup or salad.
Raw smoky mushrooms
4 cups field mushrooms, thinly sliced
1 cup raw cashews, soaked
1 small handful of fresh Rosemary
1 tsp Himalayan salt
a pinch of chili
1 tsp smoked paprika powder
1/2 lemon, the juice
4 tbsp water
1. Put all ingredients except mushrooms in a high speed blender (or use and immersion blender) and mix until you have a creamy sauce.
2. Pour the sauce over your sliced mushrooms, stir with a spoon/spatula and make sure they are all covered with sauce.
3. If you have a dehydrator, spread the mushrooms over a teflex sheet and dry overnight. If not, bake or dry them in your regular oven. Either way I promise you, they will turn out delicious.
Steamy greens
2 leeks (whole)
1 bunch of Kale
2 handful Parsley
2 cups brussel sprouts
1. Rinse and roughly cut the leek, kale and parsley.
2. Thoroughly rinse the brussel sprouts and finely slice them (or use a mandolin cutter).
3. Steam for 5-7 minutes. Obs: If you do not have a fancy food steamer you can put the greens in a strainer over a saucepan of boiling water, just remember to put a lid over the vegetables.
Assembly
Put a pile of beautiful greens on a plate, top with warm from the dehydrator/oven mushrooms and drizzle with some pumpkin oil/ghee/olive oil + additional salt and freshly cracked black pepper.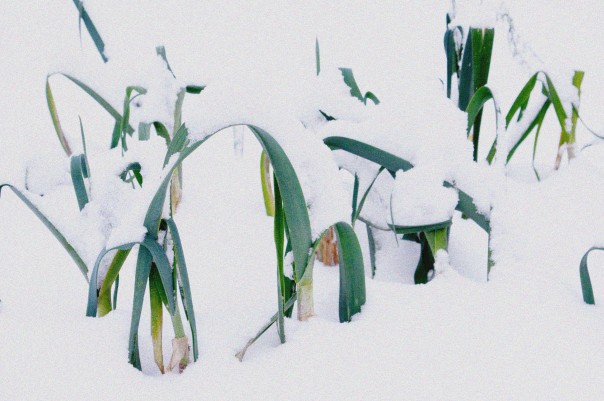 Ahh, a pile of steamy greens and smoky mushrooms is all I need today. I wish I could set a huuuuge table and share the meal with You!
Now let's have some success stories, shall we?! Share your "NOW success" in the comments below weather it is making a fire, tasting your first green juice or a fabulous soulful web find!
When those good-feely-feelings are on there is no telling what might happen both within us and in our lives. Plus the conversation continues at Twitter & Facebook.
But first.. some raw mushroom munchies!
With love from the snowy swedish forest.
°°Elenore°°