Do not disturb
Matchmaking going on
I take my job as veggie matchmaker very seriously. Ehrm. A careful combination of love, science, flavor explosions and suddenly glorious dishes like this one appear. Really hard work… Ehrm.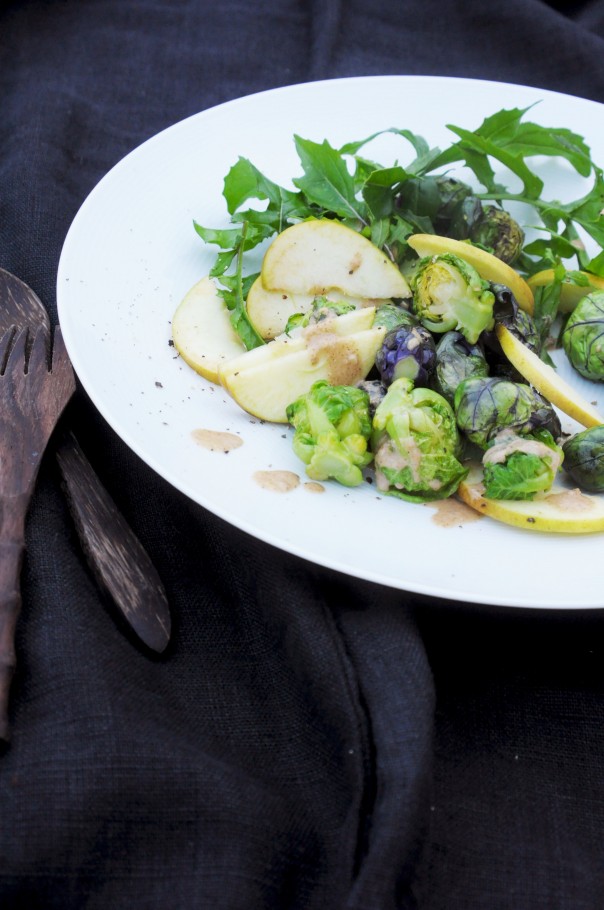 My gosh. There is no longer any way of hiding the fact that winter is coming (can you hear Game of Thrones lurking in that sentence?). I have been keeping a close eye at the weather this week, looking for an opportunity to shoot the brussel sprout salad but the moment never came and the days passed. Ha, you should have seen me today when I realized the sun was aaalmost shining. I dropped everything and went out to harvest these multicolored beauties, some arugula and apples. All went well with the kitchen creating, I got both a serious food orgasm (when tasting the dressing) and the pictures. Awesome. I went inside after the photo shoot and suddenly all rainy hell brake loose. I laughed.
Apparently the universe wanted you to receive this match-made-in-heave-recipe today and for that I am very happy. See, this is veggie matchmaking magic on a high level.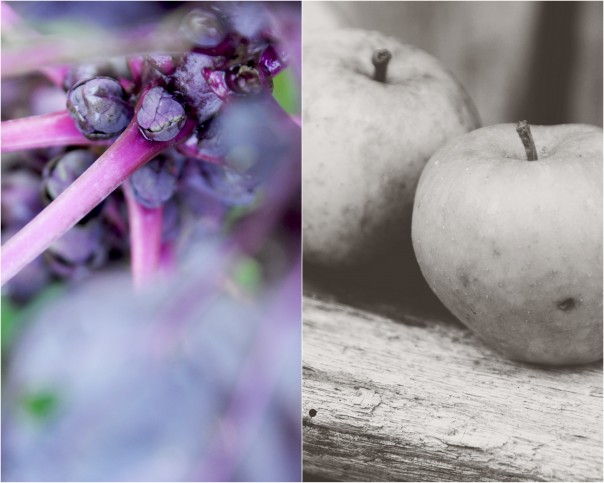 Fun & Fabulous Facts
Before I entered the world of organic gardening I had no idea that brussel sprouts could be anything other than a grayish pile at a Christmas table. Quite frankly, I was a bit scared of them. Oh how sad! Never again are these beauties to be overlooked, you see they are most definitely centerpiece material. Not only for their obvious pretty looking faces, also for the exciting flavor, sensational nutritional value, texture and ability to make a dull salad pop. But for that to happen it acquires you get your hands on some locally grown sprouts with all of these hidden powers intact. Also remember that brussel sprouts that have been hit with a little frost are sweeter.

Brussel sprouts, a member of the Brassicaceae family, also called cruciferous vegetables are a warming food perfect for these foggy days. Here in Sweden they are also called "Rose cabbage", witch I think does them more justice. Brussel sprouts can stimulate the liver out of stagnancy and is therefore a great help for the body to release toxins.
Apart from all of the things listed above and being high in vitamins and minerals Cruciferous vegetables are also real brain protectors. Anyone who does not wish to take real good care of their brain cannot be in their right mind (aka not enough Brassicaceae in their world;). This Brussel Sprout / Apple salad will solve that problem.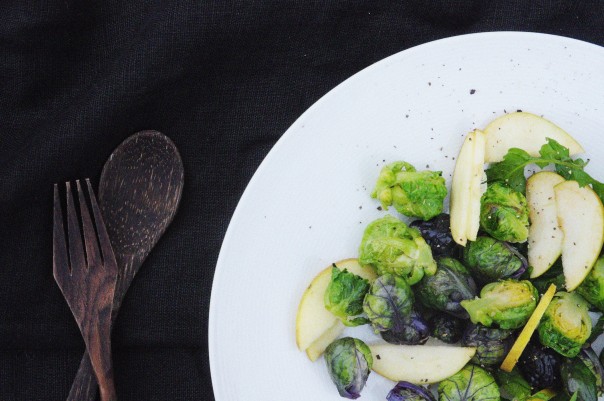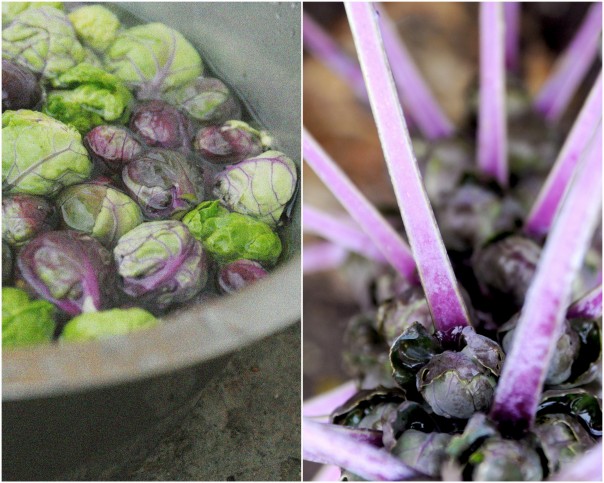 Brussel sprout & apple salad with sweet lemon dressing
An exceptionally easy salad that plays with the warm Greenylicious brussel sprouts, the fresh, tad sour apples, the mindblowingly delicious lemon / honey dressing and the peppery arugula. I told you – Centerpiece material!
Salad for four

1 kg brussel sprouts
2 tsp ghee / virgin coconut oil
pinch of salt
3 Apples, thinly sliced (I chose Belle be Boskoop)
3 large handfuls of arugula
1. Preheat the oven to 375°F (200° C).
2. Soak the brussel sprouts for 5 minutes in cold water to get rid of any sand or dirt in the leaves
3. Rinse them thoroughly and cut off their stems with a small knife (careful, you do not want to cut too much and have the leaves fall off).
4. If they differ a lot in size, cut the big ones in half and put them all on a baking tin.
5. Toss with salt and ghee / virgin coconut oil and put into the oven. Bake for 8-10 minutes. You want the core to still be a bit hard.
6. Add the thinly sliced apple and the arugula.
Lemon / Honey dressing
1 tbsp liquid honey (pure & raw)
4 tbsp water
3 tbsp tahini (salted)
1/2 organic lemon, juice and zest.
1. add all ingredients to a blender and blend (or use a hand blender).
Arrange
Drizzle the godsend dressing over the salad and eat as it is or together with steamy quinoa/millet and freshly cracked black pepper.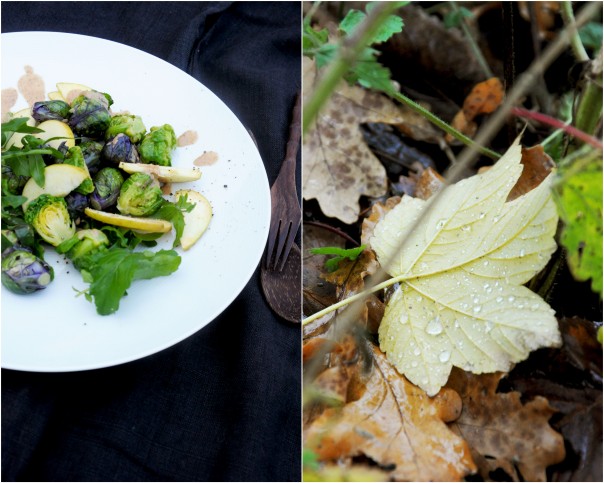 Now matchmaking does not end in the kitchen. I´m constantly using those abilities to guide me to the things I need the most. One day Elenore + Creative visualization/planning can be the greatest thing and sometimes Elenore + silly series are a perfect match. It´s all about letting that inner matchmaker take you forward to the meetings you are meant to attend.
What matchmaking are you doing today? Where does that GPS take you right now..? It would be so much fun to hear about your magic in the comments below.
°°Elenore°°