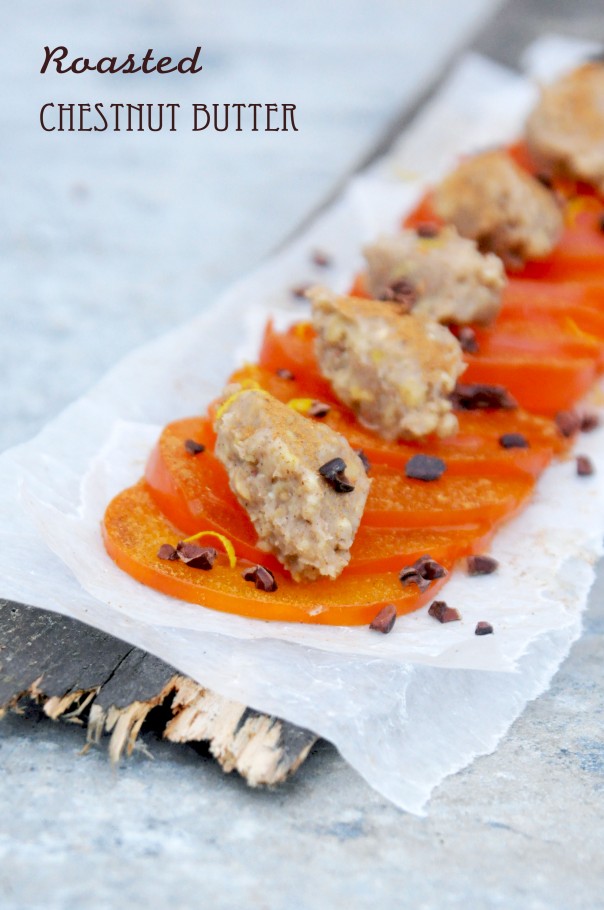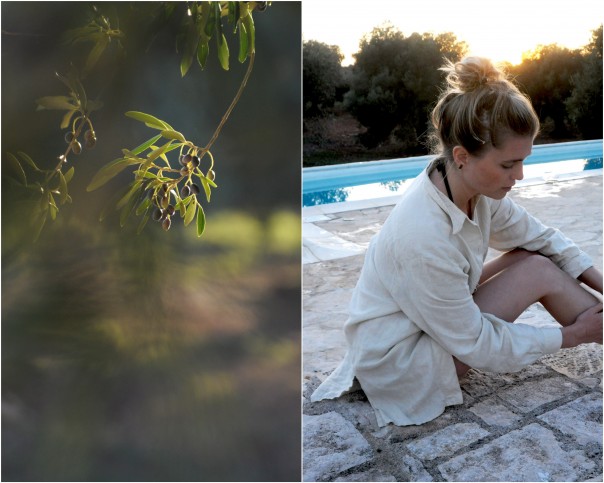 A dream of Italy (aka a dream of food)
Honestly. Who thinks of dips in the sea or grand architecture if I say "Italy". Not me at least, uh-uh. I think of food. As I mentioned in last weeks post I recently snuk off to Italy for two weeks of total relaxation and boy it was good (and high in carbs)..
Fabian and I arrived in Rome late at night and the days that followed I ate sourdough bread and vegan gelato as if the next brilliant flavor explosion á la Earthsprout was hidden among the cups of gluten and sugar. It was insanely tasty but I found no secrets.
Morning markets with tons of fresh produce resulted in grand (and messy) meals around the city. Bunches of fragrant tomatoes, spinach, arugula and water cress, squishy persimmons, raw hazelnuts (and the fresh bread – when in Rome -). I am so in love with picking up tasty things at a tiny market or a food stand by the side of the road in sunny countries like Italy. All while communicating (eh?) with the beautiful men and women selling sweet grapes, stunning kale and delicate aubergines.
My belly was happy though to say goodbye to all that gluten when we left Rome and traveled by train to Bari. Oh how I love trains. Fields of artichokes and rustic stone buildings reminded me so of my time in Spain and I felt right at home. Meeting up with the entire AMAZING family and simply being together with them for a whole relaxing week was such luxury. No wi-fi, computers or to-to lists anywhere near. Gosh how I needed that. Priceless. The laughter, games, olives, hugs and the raised glasses of champagne when we celebrated my mothers birthday are forever within the very love of my heart.
Oh and I did find a new Earthsprouty flavor even if it had nothing to to with my Roma ice creams: Roasted Chestnuts!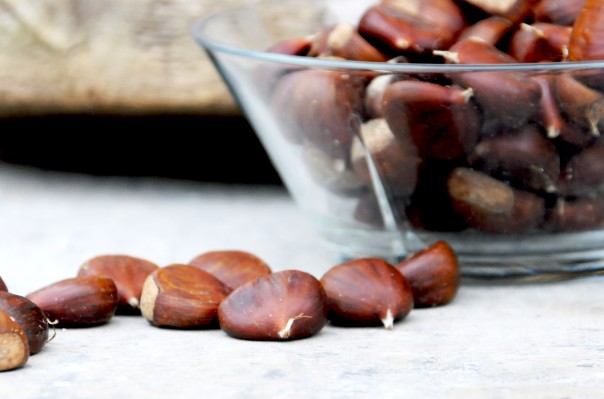 Fun & Fabulous facts
Many of you have grown up with the smell of roasted Chestnuts as a big part of this chilly season. In Sweden however, the trees (Castanea Sativa) are not that abundant and the nut is not regularly used. A year ago when I first made an attempt to prepare them, they exploded in the oven. Yeah. Apparently it took me 12 months to get over that crazy evening of loud bangs and shattered chestnuts. Children, do not try roasting chestnut before scoring the shells with a knife. Lesson learned.
Chestnuts are very different from other nuts. With a fat content of only 9 % (compared to 83% in Walnuts) the chestnut is considered to be the most easily digested nut. In many ways this nut is more like a grain because of the low oil & protein content and the high carbohydrate content. Also I would say the flavor resembles grains (or herbs) such as quinoa and millet, when lightly toasted.
I´m off to plant a Chestnut tree very soon and hope you will do the same. The smell of roasted chestnuts just might be something my children will remember as a big part of fall. Plus they will be getting a superb source of minerals such as magnese, potassium, magnesium and iron.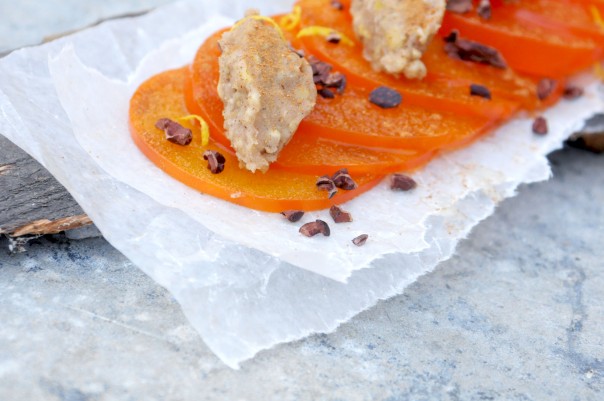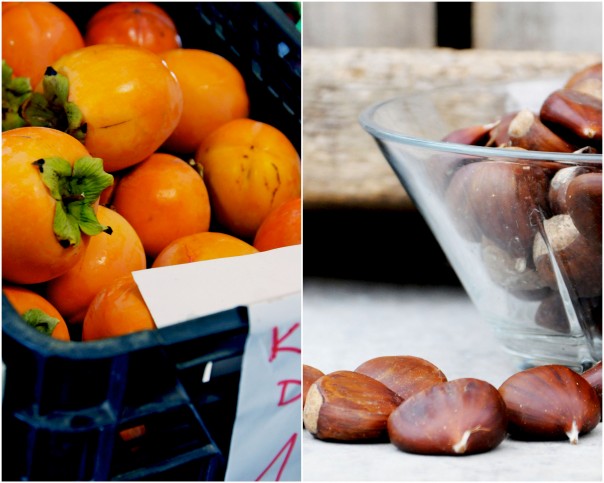 Roasted Chestnut Butter on Persimmon Carpaccio
Almond butter, sesame butter, peanut butter. Been there done that. Moving on to a vanilla flavored roasted chestnut butter! As I always cook/uncook according to the seasons, Persimmon was an obvious choice to pair the butter with. Sprinkled with some lemon together with the vanilla frosting-like nut butter a sensational dessert or even aperitif was born.
Roasted Chestnut Butter
Serves 4 (there will be left over nut butter for you to put in the fridge and enjoy later)
400g whole chestnuts (approx 4 cups)
1/2 cup pure water
1/2 tsp pure vanilla
1 tbsp maple syrup
a pinch of Himalayan salt (or other good quality salt)
1. Preheat the oven to 400F/200°C.
2. Cut a cross into the skin of the chestnuts with a very sharp knife then put them in a pan and roast until the skin opens. This will take about 30 min.
3. Peel the Chestnuts and add them to a food processor along with the rest of the ingredients. Pulse until a creamy nut butter has formed. You do NOT want to make a pureé and that´s why only pulsing is a good idea.
Persimmon Carpaccio
2 Persimmons (Between hard and really ripe)
1/2 organic lemon, juice and peel
a pinch of cinnamon (for decoration)
2 tbsp raw cacao nibs (for decoration)
1. Thinly slice the persimmons and put on your serving plate of choice.
2. Pour over the lemon juice and let sit for 15 minutes
Assembly
Scoop up and form the nut butter using two teaspoons and put on top of the carpaccio. Add a dash of cinnamon, the raw cacao nibs and some lemon peel. Serve as dessert or apertif.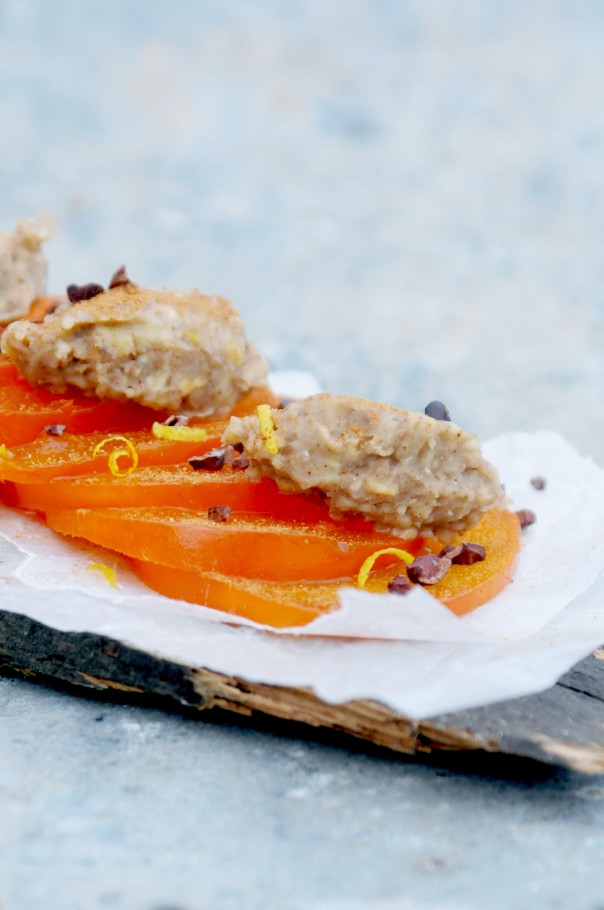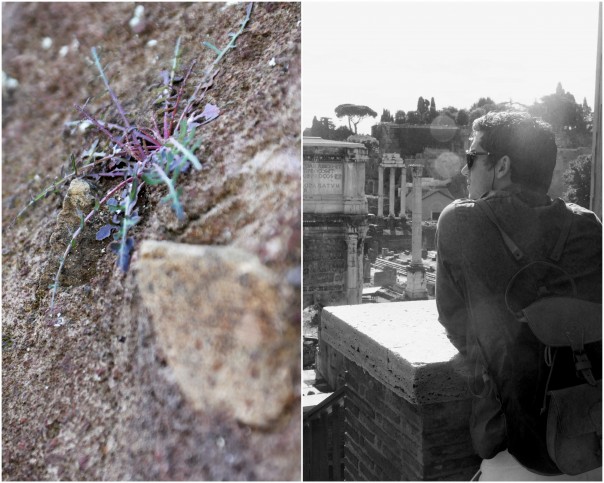 After a few glasses of the Green Jazz Juice me and my belly is back on track and with the sun still lingering on my face I am ready to embrace the wintery darkness of Sweden (a bit) more gracefully.
Now tell me a DREAM destination of yours in the comments below! Does it involve food? Or do you dream of going there because of.. I don't know.. it´s history, sensational mountains or a dear friend. Let´s create a vision board in the comments below!
And see you on Twitter & Facebook, Darling!
°°Elenore°°