A Harvesting nerd? Me?! Naaahhhh…
Put me and a basket in a veggie garden, greenhouse or even a forest and you will have nestled your way into my Greenylicious heart forever. Yes, it's an invitation. Bring me those ripe yummy things!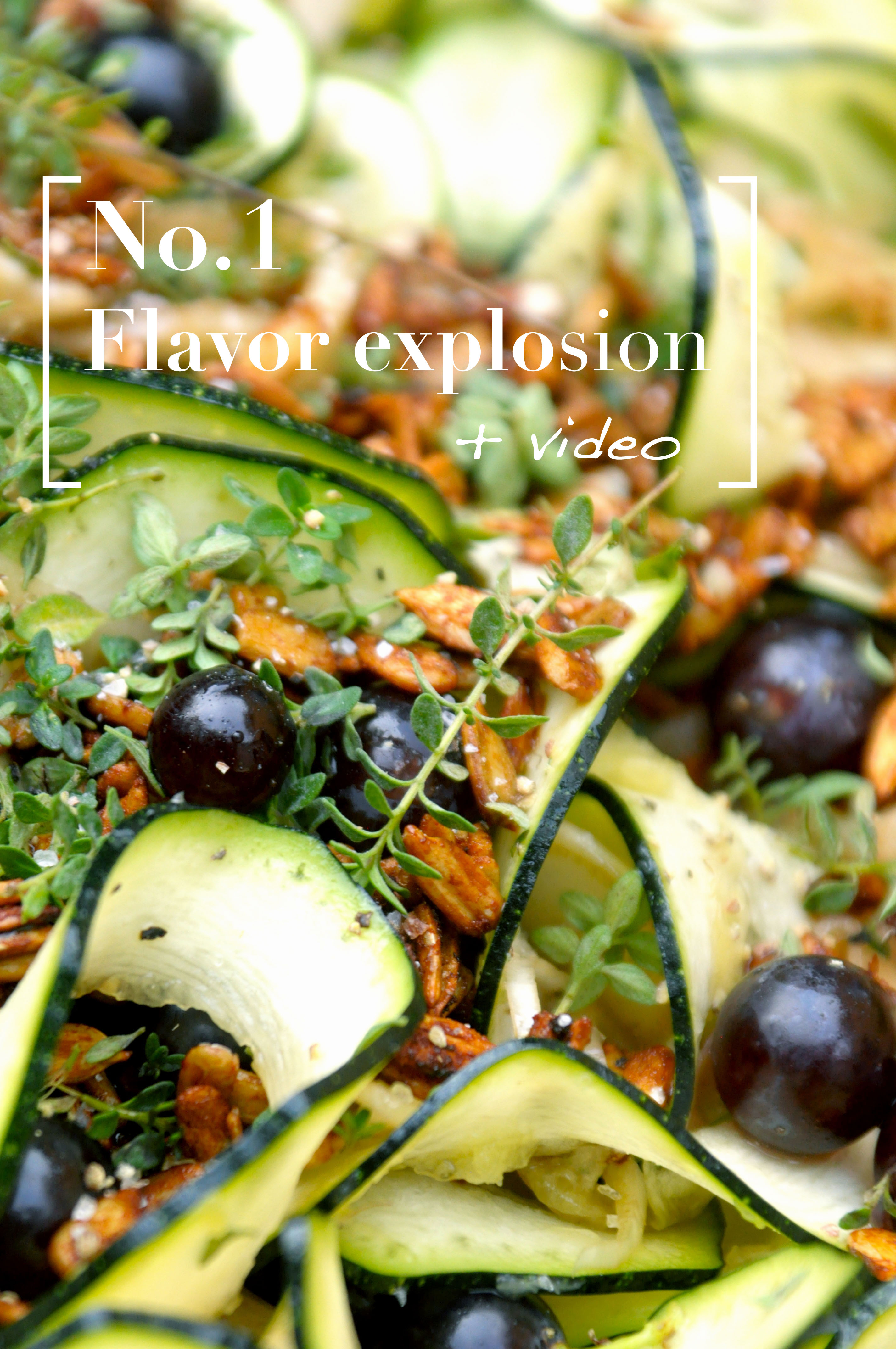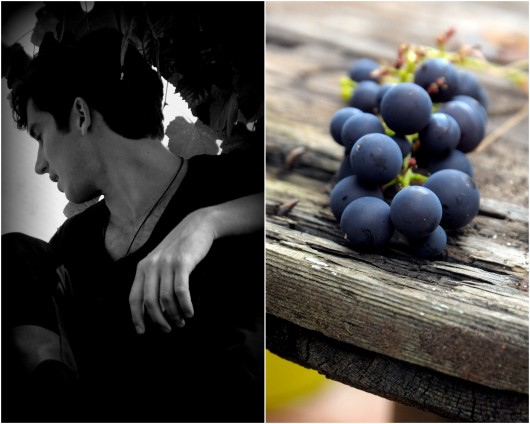 You all remember THIS GREENHOUSE where: 1. Fabian grew up 2. I collected grape leaves for the Raw Grape Leaf Dolmas 3. Host the Greenylicious Cooking Events (phew). This place is very dear to my heart not only because we get to hang out there and help with harvesting the Concord grapes – which you can see in the VIDEO below – (and taste the wine). No, it's also because of the fact that our mothers (Fabian and mine) were besties when they grew up and so Fabian and I actually ran around in this greenhouse as kids (I was 3 and he was 5). Get that. Bumping into eachother many years later is another story entirely.
I told you. Put me in a greenhouse and you have my love (I guess I was a green nerd at 3 years old as well).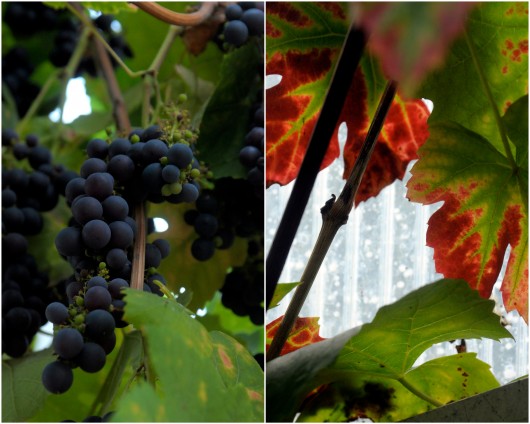 Fun & Fabulous Facts
Soft, beautiful, exciting, candy-like, complex, squishy – a grape is many things but for me it's mostly a sweet treat. Me and my sister grew up with it as a part of our little Saturday candy bowl. Later on when I learned about the insane spraying of pesticides and all kinds of nasty stuff on grapes, they became a banned food (finding organic grapes in Sweden is close to impossible). Fast forward a few years to when I dove into the world of natural nutrition, realized that the amount of antioxidants found in grapes are pretty darn awesome and so began to put some pressure on our local grocery store. They did not order the organic grapes but those purple stunners found their way to me later. Moving to Spain and work in a organic garden did the trick.
Grapes are a good example of foods that truly should be labeled with a large red sticker saying "Chemical Cocktail". The numerous toxins found in grapes are just terrifying and way over the "allowed" limit (!). Then see how raisins and grapes are given to children everywhere as a treat. Scientists today have no clue how these chemicals effect the body when combined (hence the nickname; chemical cocktail) and the potential risk is not taken into consideration when pouring them over our foods. Clever.
But we have a choice. Break up with the sprayed grape and find someone how grows them organically (or simply choose another local organic fruit). Do I need to mention the obvious concentration of the chemical cocktail in raisins? Didn't think so. Plus, organic really do taste better.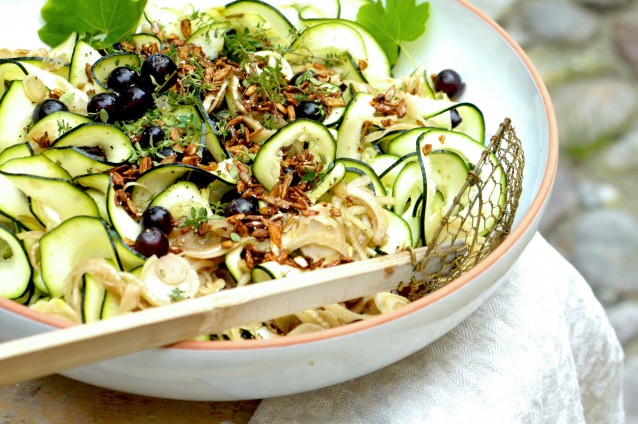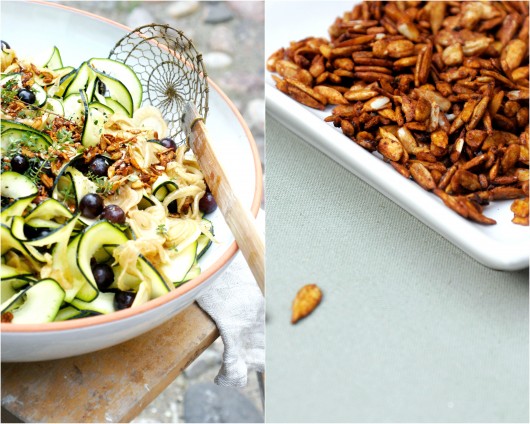 Grape & Fennel Tagliatelle w Tamari Toasted Seeds
Grab the last zucchinis of the season, some gorgeous grapes and get creative. That's what I did and it sure turned out delish. The tamari toasted seeds are a keeper. You can do the same with which ever nuts or seeds you like and store them in the fridge for rock'n roll sprinkling. Eat this salad as a main course on it´s own or add some warm cooked quinoa.
3-4 portions
Raw Zucchini Grape tagliatelle
2 medium sized zucchinis
2 cups purple grapes (preferably concord grapes)
a few twigs of fresh thyme
1. Make the raw vegetable tagliatelle by using a julienne peeler, a potato peeler or a spiralizer.
2. Add the thoroughly rinsed grapes and a small handful of fresh thyme leaves
Marinated Fennel
1 large Fennel bulb
2 tbsp balsamic vinegar
1 tbsp virgin olive oil
 1 tsp freshly cracked black pepper
1/2 tsp Himalayan salt (or other good quality salt)
1/2 tsp truffle oil (optional but really yummy)
1. Rinse and cut the fennel very thinly and put into a bowl
2. Add the rest of the ingredients to the bowl and let marinate for at least 15 minutes, stirring occasionally.
Tamari toasted Sunflower seeds
2/3 cup Sunflower seeds
4 tbsp tamari (gluten free soy sauce)
small pinch cayenne chilli (optional)
1. Add all ingredients to a frying pan and let toast on low to medium temperature for 5 minutes while stirring so they wont burn.
Arrange
Put the tagliatelle in a large bowl along with the grapes and thyme. Add the marinated fennel and last but not least the tamari toasted seeds. Freshly cracked pepper to taste.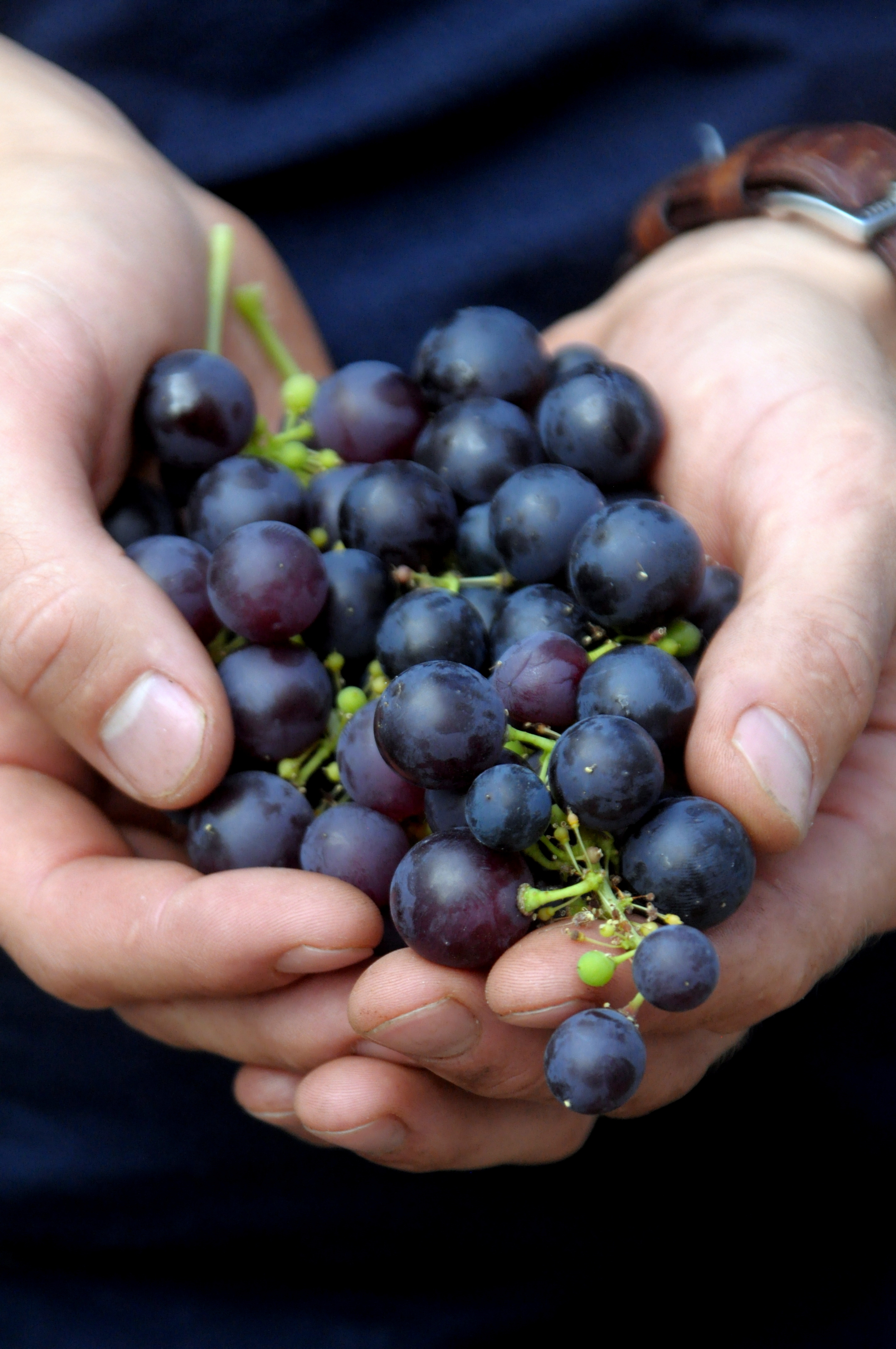 This was the first time I have actually eaten grapes in a savory dish and I am SO in LOVE! Wow – who knew Grapes and Tamari were best friends!?
Do you have a fave way of eating grapes? I'm very much looking for other ideas so write them down in the comments below!
When you´re done watching the video and drooling over the pictures I'd be so so happy if you'd share this post and come over to Twitter & Facebook so we can get to know each other more!
xo, Elenore