Just do it.
Create the life that you want.
You see, I just took a huge leap and have decided to go full on with both Healthy spark talks and Greenylicious cooking classes. Foodie adventures filled with laughter, flavor explosions, one on one meetings and inspiring natural nutrition. This is what I want my next step to be so I took it. Yikes!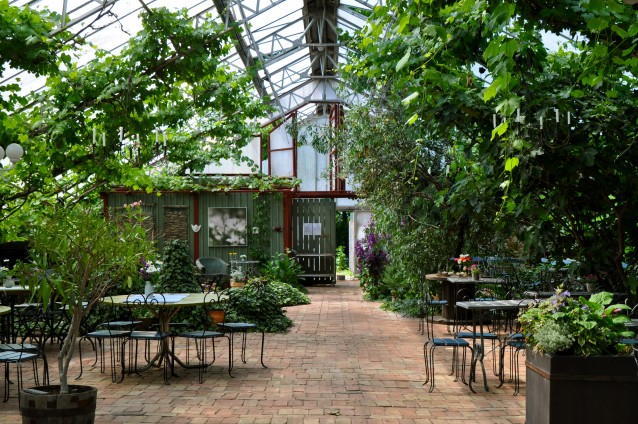 But the huge leap does not end there. Fabians grandmother (& my extra grandmother) lives just outside Ystad at this place called Backagården (you can see it in the pictures) which she has build up from scratch. With its enormous green house, café, garden and little shop it is a summer destination for life lovers (and weddings) coming in from all around.
That lucky hottie of mine actually grew up here and now I go visit with or without him to meet Gunnel and to walk around caressing the leaves of the vines, fig trees, the eucalyptus tree and the olive tree. No we are not suddenly in the Mediterranean. It is just magic and years of dreams and work.
This is where the first grand Greenylicious cooking class á la Earthsprout will take place. Not bad, huh?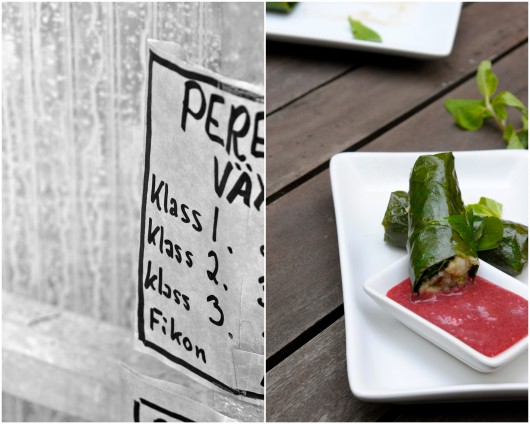 Fun & Fabulous facts
As the true harvesting nerd I am, after my last visit to Backagården I left with a bag of gorgeous wine leaves and knew exactly what to make of them. Dolmas! But with what kind of sauce..? Something that would be a fun contrast to the fully green dolmas. A red sauce! A Pomegranate sauce with Umeboshi! (where did that come from?) Anyhow, I went with the idea and the result was both crazy beautiful and super tasty. Not to mention extremely nutritious! Yeah!
But.. Umeboshi? Say what now? I remember when my tastebuds first met this wierd pickeled plum and I´ll tell you, it was not love at first taste but I was intrigued and very curious. How could i make that amazingly healthy salt plum taste d-e-l-i-s-h? 2 years later I use Umeboshi regularly and I am both loving it´s taste and it´s health boosting/medicinal qualities.
As I mentioned Umeboshi is a pickeled plum (Prunus mume) and is traditionally used in Japan and in Macrobiotic cuisine around the world. The Umeboshi plum is incredibly alkaline and balances any upset digestive system or toxic overload. Due to this it is a popular hang over cure and also a "quick fix" when life has led your eating/sleeping habits of track for a period of time. If there have been a few too many cocktails and midnight snacking which is typical for our fling with summer, Umeboshi plum is your new go to solution.
Umeboshi comes in whole plums, paste, vinegars and other fun ways like umeboshi chips (the actual dried and crunchy plums). For this recipe I have used the paste and I encourage you to go buy a jar and start adding the paste to dressings, grains or even a cure-all tea.
A tasty AND healing quick fix? Yup, your welcome!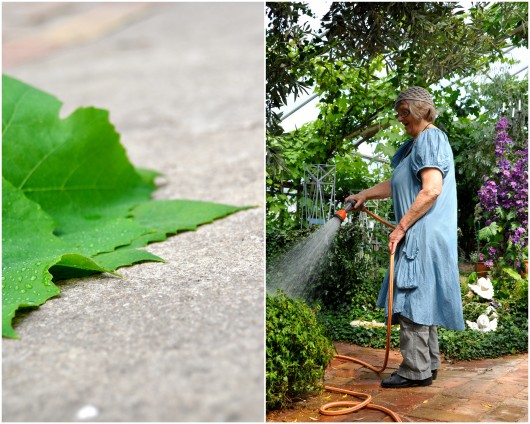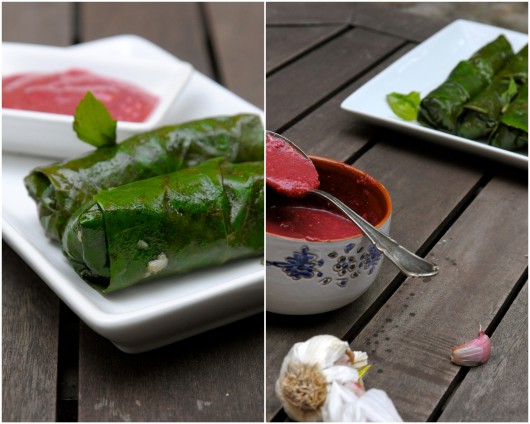 Raw Grape Leaf Dolmas
w Umeboshi & Pomegranate sauce
If you take a look at the list of ingredients you´ll see that I did not go for the traditional dolma filling. Instead I played with the rich flavors of mint, dates and crunchy pumpkin seeds. Together with the tangy & sweet sauce these little dolmas are one awesome invention! This recipe makes approximately 10-15 dolmas depending on the size of the leaves. Perfect to bring with on a midsummer's eve picnic tomorrow!
Grape Leaf Dolmas
Grape leaves, store bought or as I used, fresh and marinated in olive oil, balsamic vinegar and a splash of lemon for 24h
2 cup parsnip, peeled & chopped
1 tblsp nutritional yeast
1 tsp salt
1 tsp coarse black pepper
2 white bell peppers
10 dry, pitted dates
1 clove garlic, minced
2 small handfuls pumpkin seeds
2 handful fresh mint leaves, roughly chopped
In a food processor, pulse the chopped parsnip until rice like size and add it to a large bowl.

Thinly chop the pitted dates and add them along with the rest of the ingredients to the bowl of parsnip rice. Stir until all ingredients are fully incorporated.

Put around 1 1/2 tablespoons of the filling into the center of each leaf and fold. The sides folded up first, followed by the stem end and then roll tightly .

 Put the dolmas aside while making the red sauce.
Pomegranate & Umeboshi sauce
1 pomegranate, seeded
1 small tbslp Umeboshi paste
½ lemon, the juice
pinch of chili
pinch of himalayan salt
pinch of black pepper
2 tbslp virgin olive oil
Put all ingredients in a high speed blender and mix until smooth

Pour into a small bowl and go ahead and dip the dolmas!
So while I continue to fantasize about the upcoming Greenylicious cooking class á la Green house style I hope you´ll go for a little umeboshi shopping tour. It´s flavor is a bit scary, yes. But so is life and after taking that leap it is just so worth is! (Both life-wise and dolma dipping sauce-wise)
Come on over to

Twitter

and

Facebook

and let me know if you wish to grab one of those Foodie adventure spots in the middle of a Swedish paradise.
xoxo
Elenore
Sourses: Healing with whole foods, Paul Pitchford – North atlantic books