Spring turns to summer and
it´s so bright I swear it keeps my soul awake all night
First thought of the day = Why on earth am I so tired? Second though of the day = Where is Fabian? Third thought of the day = Whaaat? I have forgotten to get the wild leek for my recipe making du jour!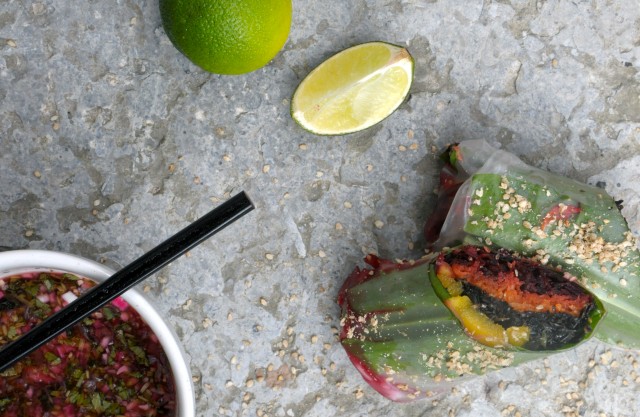 The answer to all of the questions above I think lies partly in the so called Supermoon that visited this weekend. ( I never really sleep during the full moon and this was a supermoon, geez..) The result? A tad tired Elenore that did not even hear Fabians alarm clock go off. And that´s telling something. The solution? Some deep nourishing breaths and a little prayer that went something like this: "Dear universe, my reality is abundant in wild leek, I have everything i need for the Psycadelic spring rolls and everything is bliss"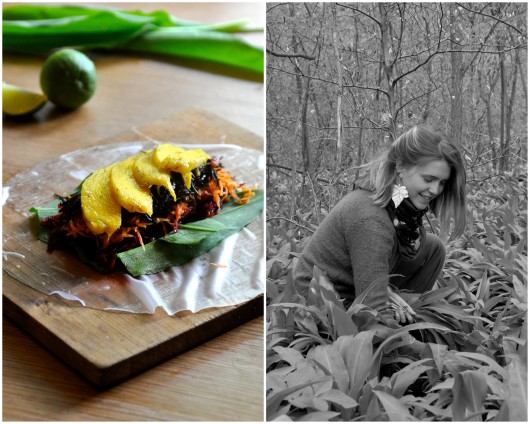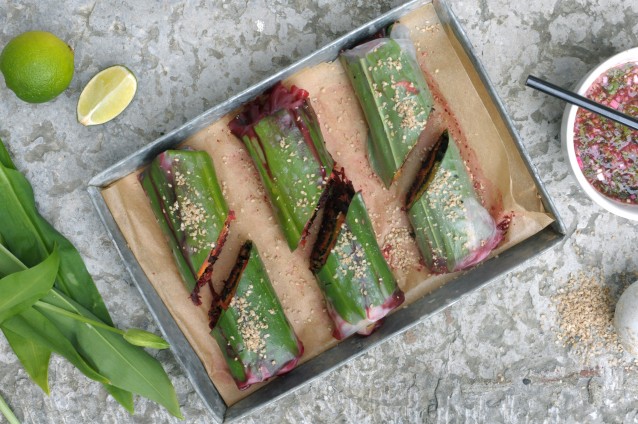 By looking at the pictures I guess you can see that the Universe DID answer my prayer and real fast too!
I just happened to call my mom and she just happened to have some wild leek in her freezer, then she picked me up and on the way home to her she just happened to remember that secret place in the forest where the wild leek grows like crazy. So we stopped the car a few feet from that spot and right then and there I had to send off a "thanks honey universe" and go spin among the green abundance.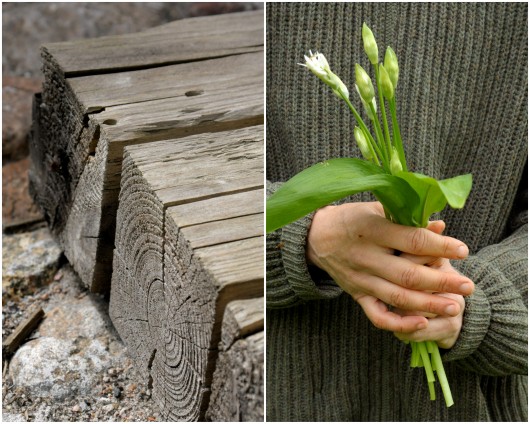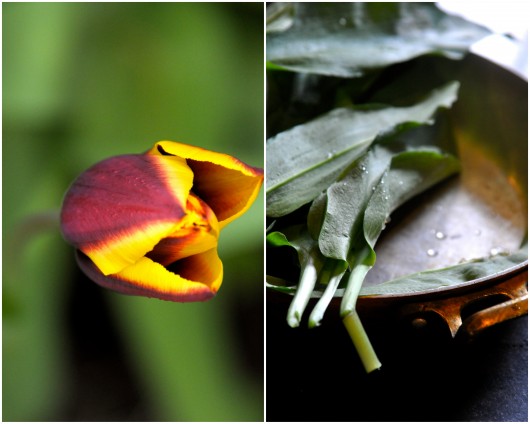 Fun & Fabulous Facts
I suppose now is the time to let you know that there really is nothing psychedelic about these spring rolls aside from their bright colorful appearance. I wanted to capture the crazyness and sweet joy of pure, raw and whole foods at it´s core. The field of wild garlic did make my head spin but that was out of pure bliss. Promise.
So what´s all the fuss about this wild garlic anyway? And what on earth should I call it? Wild leek? Bear´s garlic? Ramsons? In swedish it´s called "Ramslök" Allium Ursinum and it grows all over Europe (the states too?). It is a powerful colon cleanser (It is actually called "Bear´s garlic" since it is considered to be the first thing that bears eat when awakening from hybernation to support the colon and get their strength back.) How cool is that?!
Since any colon imbalance shows on our skin, our sleeping habits, our breath and our overall health it is quite smart to follow the footsteps of the bears. Wild leek is therefore not only a wonderful flavor addition, it´s a miracle worker as well (duh, it´s green – go figure). The cleansing properties of wild leek is connected to it´s high amount of sulphur and since sulphur is an important part of enzyme production it contributes to a natural cleanse. As if this was not all, certain sulphur compounds strengthen the intestinal flora and help the body to eliminate heavy metals, pesticides and residues from medicines. Wow what a spring cleanse!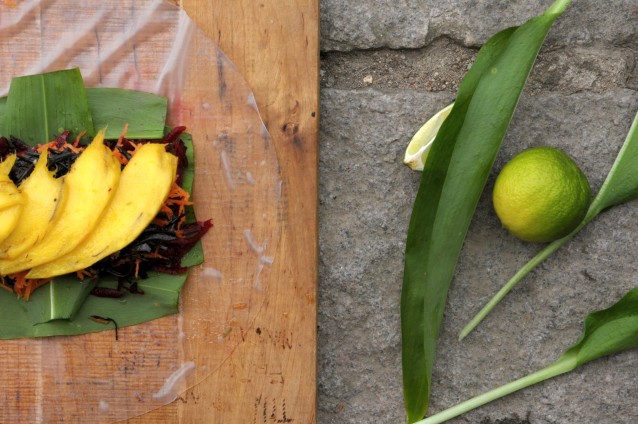 Psychedelic Raw Spring Rolls
These little rolls are made with the wildly versatile rice sheet (which I love) and filled with colorful fruits, vegetables and algae. Put them in a picnic basket, dip in the sweet/sour/spicy sauce and enjoy the brightness of nature (both around you and in your mouth). Fabian and I will enjoy them tomorrow on our journey to London!
Makes 5 large spring rolls
1 1/2 cup finely grated carrot (3.5dl)
1 1/2 cup grated beet root (3.5dl)
1 ripe mango, sliced
1 cup arame algae (2.4dl)
1 clove of garlic, minced
1 tbsp sesame oil
1 tbsp tamari
1 tbsp juice from grated fresh ginger
5 sheets of rice paper
25 leaves of wild leek
some hot water for softening the rice paper sheets
1. Soak the algae for at least 1 hour then rinse it well and put in a small bowl.
2. Add the minced garlic, the freshly squeezed ginger juice, the sesame oil and the tamari. Let it marinate for 30 minutes
3. Pour the hot water onto a large plate and put one rice paper sheet in it so soften (takes about 20 seconds).
4. Put the rice paper sheet on a clean and dry space and then arrange the ingredients like this: Wild garlic, beet root, carrot, algae, mango. Then roll it up and keep under a lightly moist kitchen towel. Just before serving, cut them on the diagonal so it makes 10 small spring rolls
Dressing
1 small handful Cilantro, finely chopped (with stems)
the juice of 1 lime
1/2 red onion, finely diced
a pinch of chili powder
1 1/2 tsp honey
2 tbsp apple cider vinegar
1. Mix all ingredients thoroughly in a small bowl and dip the spring rolls in it!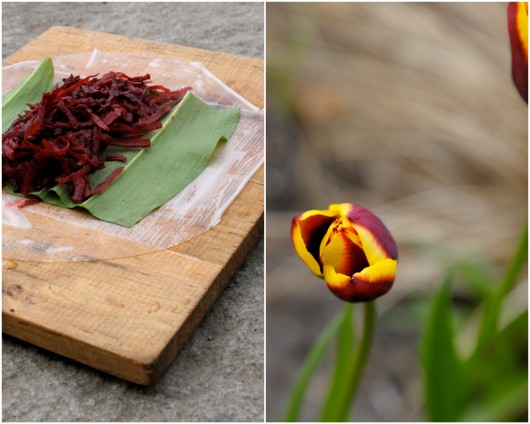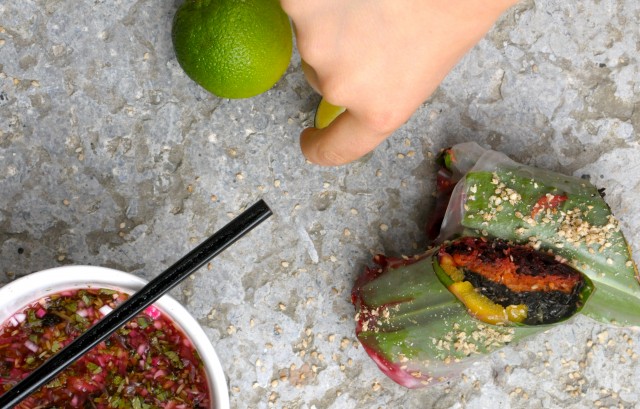 As you read this I am walking the streets of London, holding the hand of my love and stuffing my face with all the gorgeous veggie food I can find. (Watch out Whole Foods…!).
But dear Earthsproutling, tell me, have you ever tried Wild Garlic? How do you enjoy munching on it?