It´s time to go wild, friends!
You are absolutely free to read what ever you want into that sentence but this post will be about two of my BFF´s. Wild foraging and Wild rice. Then if you feel like howling to the moon, embark on a new adventure, love crazy fully, put on a golden outfit or try eating something wierd, that´s up to you (I mean, I  might do that!). As long it´s wild, kind & fun I have your back!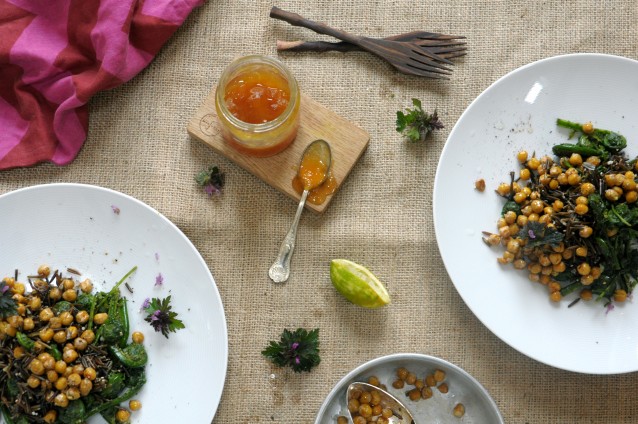 Before I tell you all about the gorgeous stuff on the plates above I want to say a few words about photography and food blogging.
If you were to take a peek among my pics on this computer today, you would see that 95% of them all are on food in some form. I fully realized this last week and it made me a bit bummed. You should have seen me 4 years ago when all I wanted was to style big shoots that were to inspire with their originality, beauty and edge. Iphoto was filled with cool interiors, people on the street and their creative style, a pretty hat on a shelf and things like that. The reason I´m saying this is that I´m thinking about incorporate a bit more of my photography here on Earthsprout. Pics that are just like me, wild, fun, filled and with heart and energy (and not solely food related). You down with that? I thought this would make for more alive stories/posts as well.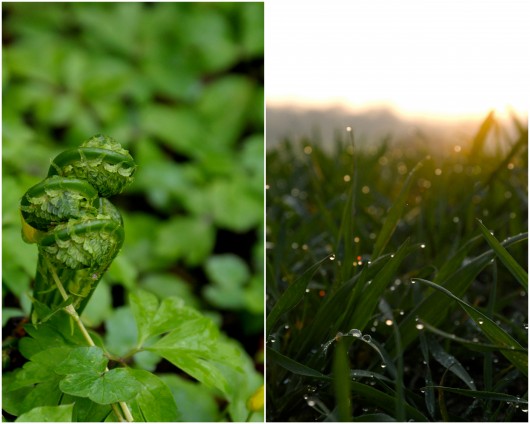 Fiddlehead ferns and a rainy sunset (yes my clothes were quite muddy after that last shoot)
My love for all things wild started early but the wild rice, honeys, is a rather new acquaintance. You all know I´m a huge fan of gluten free seeds and grains like Amaranth, Quinoa, Millet and Buckwheat. Then people ask me, do you eat rice? But truth be told, I think rice is way to boring and therefore extremely rarely land on my plate (my black rice/oat milk pudding is an exception). Rice just feels too 80´s for 2012 and since I have seen 1st hand how devastating the growing process is to the earth I rather not eat it.
Then something happened. I met the uber cool wild rice! Did you know wild rice is a grass? No wonder I adore it! I most often eat it sprouted and then it tastes like crunchy vanilla! Here I combined it with great greens from the forest which makes a symphony of surprises and all things awesome! Come to mama fab wild one!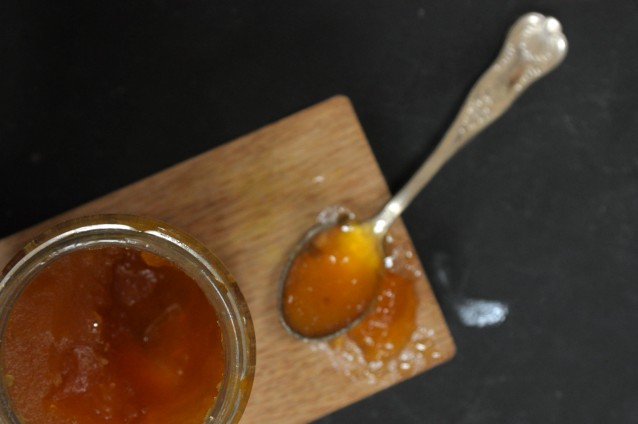 The Andalusian Wild Honey in all it´s glory that I brought to Sweden

Fun & Fabulous Facts
I bet it´s not too often you hear someone urge you to buy wild wild rice. I mean if it is wild then you only need to say it once, Right? Well in this particular case there is actually a difference between wild wild rice and wild rice. Confused yet?
On a few locations in North America wild wild rice is still carefully grown and harvested by hand  – this is the kind you want to look for. The more cultivated kind is not rarely grown using much herbicides, pesticides and is a hybrid that can take both all these chemicals and the rough harvesting. I admit that wild rice is one of the more expensive things in my kitchen, true, but there is no need for over usage. I savor the times when I eat wild rice and often eat small quantities of it together with other foods.
This little gem is not only extremely pretty, versatile and yummie. It is also loaded with both protein and the mineral zink that works wonders on our immune system and strengthens our skin. Zink is most commonly found in animal products and the content of zink in vegetables gets lower by each chemical loaded decade that goes by. Zink is also one clever buddy that helps balancing the hormonal system and we all want that whether we know it or not.
Fiddlehead ferns, oh just listen to that name! It sounds like a fairytale! This time of year the ferns appear above the ground like tiny curled up circles, a delicacy even served at the restaurant NoMa in Copenhagen! Wowza, at least in my forest they are a bit cheaper;) You want to pick the really small ones (no longer than 2 inches) and make sure to forage in a clean area not too close to a road. Also make sure it´s the Ostrich fern (thin, slim leaves with curled up ends) and not the Bracken fern (wider leaves) you pick since Bracken fern may be carcinogenic. These tiny fairytale Fiddlehead ferns are a great source of Omega 3 and are high in iron and fiber! Cool huh!? Make sure to marinate for a long time (at least 1 hour) and sauté them before you eat. Oh, The forest is such a treasure chest!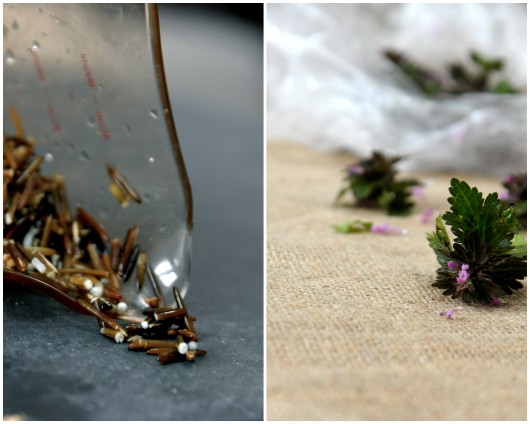 Sprouted wild rice and red "dead nettle"
Wild rice & Fiddlehead Ferns with crunchy honey coated Chickpeas
Go wild with this recipe for two. I have tried both oven roasting the chickpeas as well as sprouting, marinating and dehydrating them. Your choice! If you cannot get hold of Fiddlehead ferns, go for asparagus as they are similar in taste! Garnish it all with a few red "dead nettles" – a horrible name on such edible cuties.. (no, they do not sting)
Sprouted Wild rice
3/4 cup wild rice (2dl)
1. Soak the wild rice for 24 hours, rinse it and let it "sprout" in room temperature for another 12 hours.
Lime & Garlic marinated Fiddlehead ferns & Asparagus
1/2 cup young Fiddlehead ferns or Asparagus cut on the diagonal in 2 cm long sticks (1.2 dl)
1/2 cup Asparagus, cut on the diagonal in 2 cm long sticks (1.2 dl)

2 cup fresh spinach leaves (4.7dl)

1/2 lime, juice and zest
2 tbsp pumpkin seed oil
1 large clove of Garlic, minced
1 tbsp freshly ground black pepper
1. Marinate the Fiddlehead ferns & Asparagus in the rest of the ingredients (apart from the spinach) for at least 1 hour
2. Heat  1 tblsp of coconut oil and in a skillet, add the marinated Fiddlehead ferns and the Asparagus and cook for 3-4 minutes. Toss in the spinach.
2. Combine with the sprouted wild rice on two plates
Crunchy honey coated Chickpeas
1.5 cup cooked Chickpeas (3.5 dl)
1 tsp raw high quality honey
a pinch of salt
1. Preheat the oven to 200C then roast the chickpeas for 20-23 minutes
(For Raw: sprout, marinate and dehydrate until completely dry)

2. When they are ready, add the honey and salt and add to the greens and sprouted wild rice.
3. Garnish with a few red deal nettles
The result? You will eat it and sing "Oooh yeah I´m a wild one"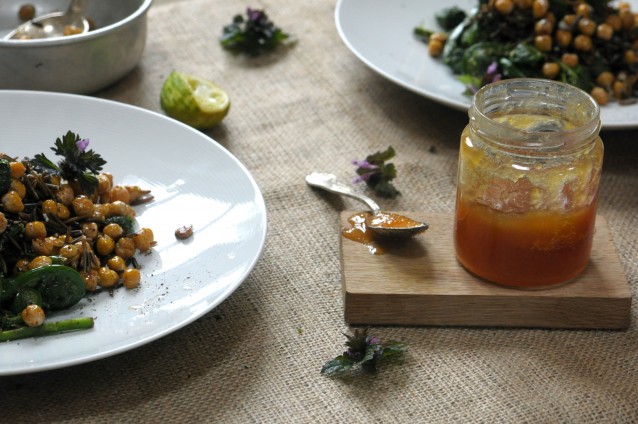 That´s all for today and my clothes have finally dried after the foraging trip in the pouring rain. But hey, it was so worth it!
I´d love it if you came over to Twitter and Facebook to tell me if you have ever used these weird wild things in your cooking!
XoXo
Elenore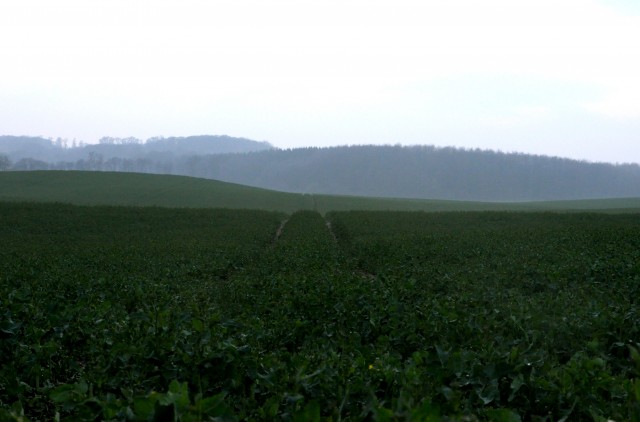 Come take a wild adventure road, Earthsproutling!
Sources: The New Whole Foods Encyclopedia, Rebecca Wood, Penguin books 2010