Translation at the end of the post
There is officially a battle going on-
 The man against the Chemical cocktail!
..Let´s solve it all with Rawghurt!
 Vadå "Rawghurt"? Vadå "Save the other Sex"? Eftersom jag förmodligen fångade er uppmärkasamhet med titeln så skall jag förklara vad tusan det är jag menar. Here what´s happening, friends. Det är krig och du måste välja sida. Mannen eller kemikaliecoctailen, det är upp till oss nu. Personligen väljer jag mannen (duh!) och jag tycker att du ska hänga på för det är inte bara smart, det är smarrigt också:)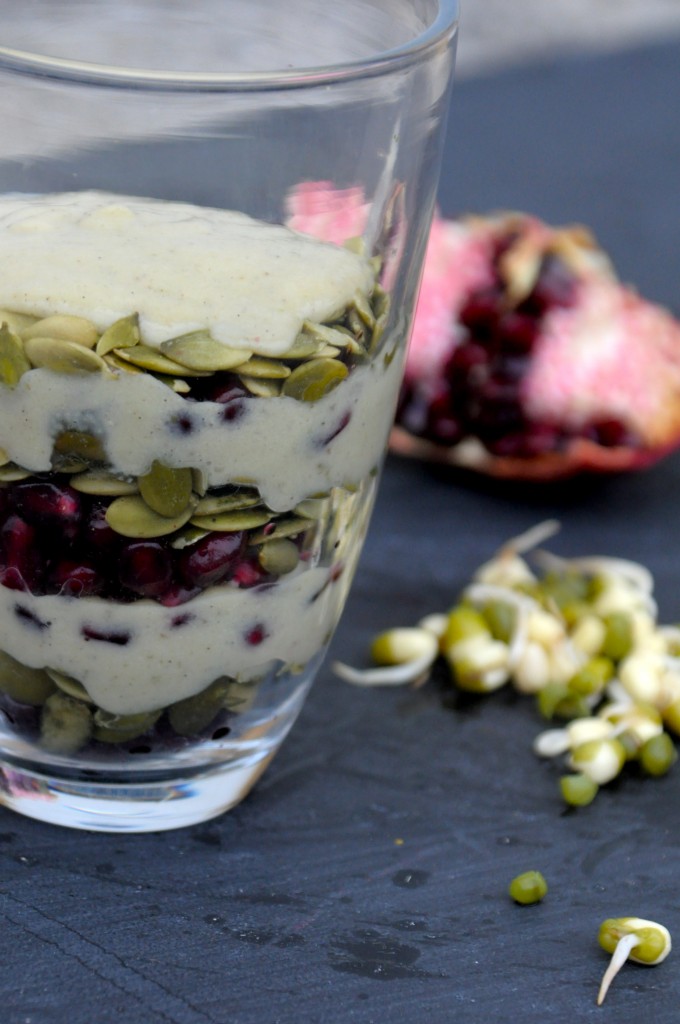 Let´s save the man, one fab layered glass of Rawghurt at a time
I höstas fick jag en rak höger av filmen "Underkastelsen". Den berättar på ett informativt och ärligt sätt (ingen sammet här inte) om de coctails av kemikalier vi hivar i oss varje dag. Men.. Coctails, de är ju himla trevliga, tänker du då och får upp en skimrande bild av "Sex and the city". Inte riktigt samma sak, tyvärr. För i vår önskan att leva ett rent och fint liv har vi samtidigt fyllt oss själva, våra hus och våra hem med gömda kemikalier. Vi gick på reklamerna för glansigt hår, nya blänkande leksaker (både till oss och barnen), citrusdoftande toaletter och kaneldoftande dammsugare (!). De är färgglada, luktar mums, gör oss "rena"… och tar alltså nu död på mannen. Så smart!
Resultatet av denna längtan efter sanslös "fräschhet" läckte alltså gifter som blandats ihop till en rykande, galen kittel av gud-vet-vad coctail. De går bananas i våra system och visar sina mörka sidor genom att hos män påverka fertiliteten, minska spermaproduktion ge missbildade könsorgan och även testikelcancer. Fantastiska Naturskyddsföreningen påminde mig om detta genom sin kampanj "Rädda mannen". Kika på den HÄR.
Jag säger Nej Tack! till coctails från den mörka sidan och trollar ihop en Rawghurt med ingredienser som är bl.a. arbetar mot prostatacancer, ökar fertiliteten och stärker immunförsvaret. Så till alla sköna & trevliga pojkar/killar/män därute, ät! Jag tycker att ni skall hänga kvar ett tag till!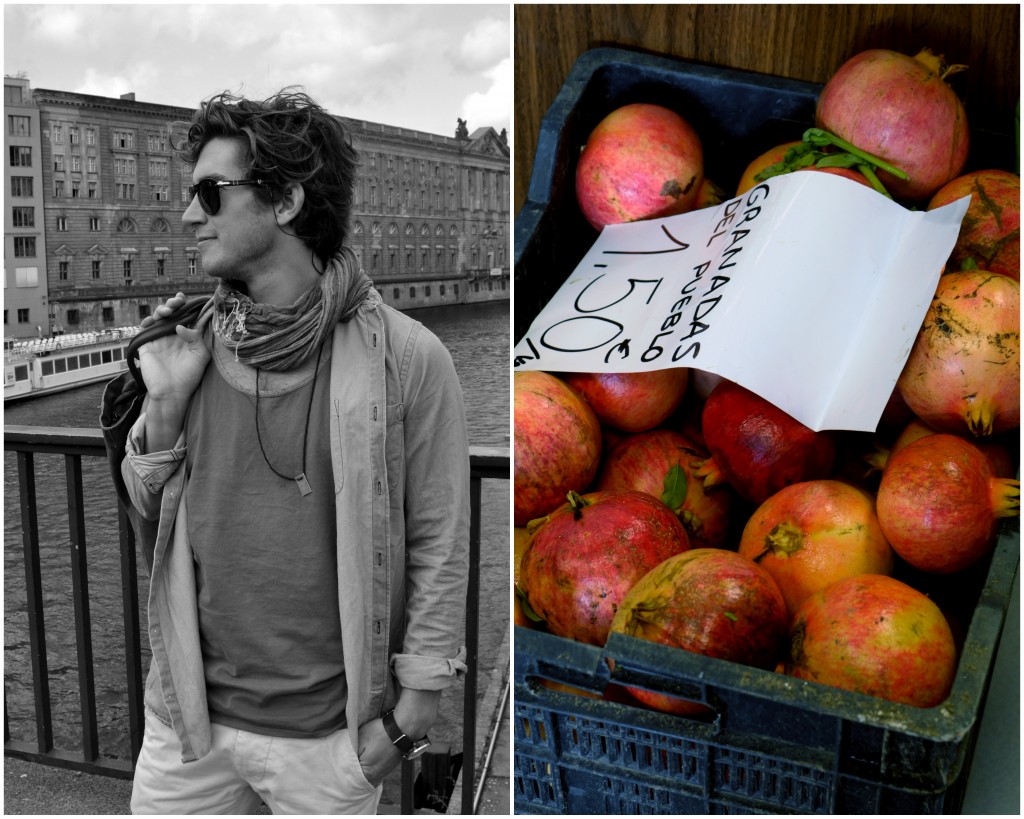 I think the men in my life rock (particularly this one) so I´d like them to be around and healthy for many more years!
Mat är miralkulöst och jorden är Superhjälte nr 1! Ät (eller mata din man/son med denna) till frukost, dessert eller mellanmål och ni får ett inbyggt skydd mot en toxisk omvärld. Zinken i pumpakärnorna som är ett superskydd mot prostataproblem. Jag veeet, vem tänker på det i 20-30 års åldern?! Well, you should! De fabulösa fetterna från avocadon och pumpakärnorna hjälper också till. Att de glänsande granatäpplekärnorna är rena rama mirakelmedicinen vet ni säkert vid detta laget. Men visste ni att det är bevisat att de skyddar mot både prostata-, bröst- och hudcancer? Fibrerna från de hela råvaror (inte minst mungbönsgroddarna) i detta recept works their magic mot ovälkomna problem som halva jordens population (eller fler) kan drabbas av.
Skulle någon tycka att denna dekadenta Rawghurt ser lite för fin i kanten ut så berätta att den är rena rama proteinbomben. Det brukar få alla inbitna hälso-motståndare att sträcka sig efter besticken. Smaklig Rädda-Mannen-Måltid!
Rawghurt
Till 2 glas
(i lager med pumpakärnor och granatäpple)
2 Kravbananer
1/2 Avocado
2-3 msk Mungbönsgroddar
1 knivsudd Vanilj
1 tsk Citronjuice
———————
1 dl pumpakärnor
2 dl granatäpplekärnor
1. Mixa alla ingredienser till en krämig yoghurt.
2. Varva med pumpakakärnor och granatatäpple i två höga glas.
Så nu när vi räddat 50% av mänskligheten så kan vi ju ses på Twitter och Facebook och glänsa lite med varandra!
Kärlek och Rawghurt
°°Elenore°°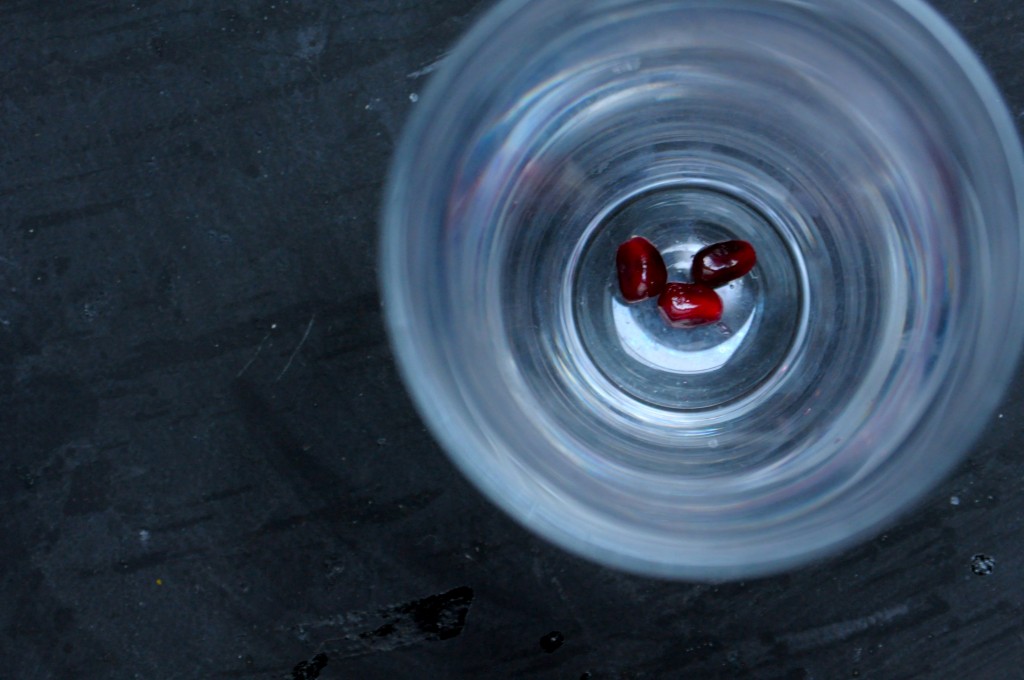 Translation
So what now? Are we going to save sex? Are we going to stuff our face with yummie Rawghurt?.. and is the man really at danger? The answer is YES, to all of the questions above. A few months ago I watched a Swedish movie called "Underkastelsen" which gave me a hard punch in the stomach. I did know about the crazy amount of chemicals that we surround ourselves with. What I had not yet fathomed was the cocktail of these chems and how they are wreaking havoc in our systems.
This is not a question of fabulous cocktails á la Sex and the City. We are talking about crazy toxic mixes of chems that are actually already creating huge problems in the body of boys & men. Prostate cancer, deformation of the sex organs, infertility… The list goes on but the point is that the infertility problems that we see today has only just started.
I do not know about you but I would really like to help some loving couples have kids, amazing men stay alive and little boys be healthy when they are born.
What I did was I turned to Mother Nature (Superhero Nr 1) and created this breakfast/dessert/snack that boosts fertility, strengthens the immune system and knocks the life out of prostate/breast/skin cancer. We are talking magic here, friends! Get off the computer and whip up some delish layered Rawghurt for you and all the men & boys in your life. ASAP!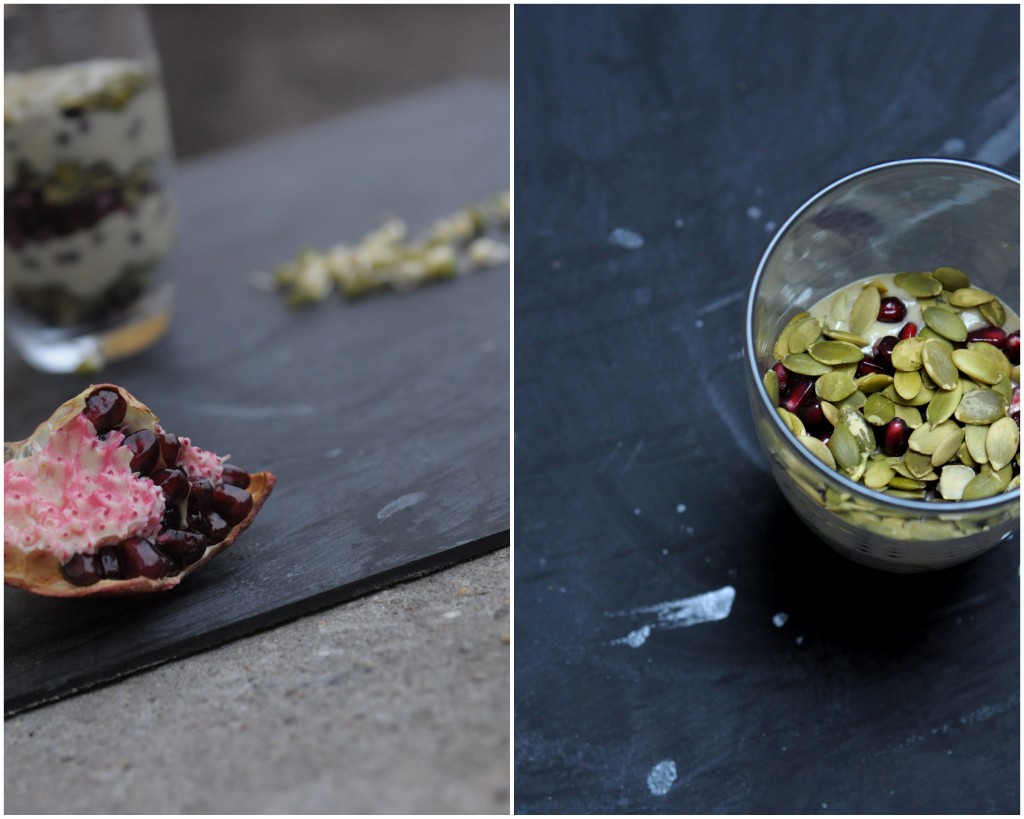 I know, I know.. who would ever think about prostate cancer in their teens, twenties or even thirties? Well, it´s time! The Zink in pumpkinseeds helps strengthening the prostate and the amazing fatty acids of these seeds (along with the avocado) helps bigtime aswell. You probably already know that pomegranate is like a universal doctorbut did you know that multiple studies has shown that munching on these red seeds is a great way to fight both prostate, breast and skin cancer? Chew away!
The fibers in these tasty whole foods are also presenting a great help in fighting these problems and inbalances. The Earth rocks!
 And, oh – If anyone looks at you like; Why on earth would I eat that? Just tell them that it is a protein powerhouse. That usually gets everyone both satisfied and convinced…
Rawghurt
2 layered glasses
2 organic Bananas
1/2 Avocado
2-3 tblsp of sprouted Mungbeans
1 tsp fresh Lemon juice
1-2 pinches of pure Vanilla
——————
1/2 cup Pumpkin seeds
1 cup Pomegranate seeds
1. Mix all the ingredients for the Rawghurt
2. layer two glasses with the pumpkin seeds, pomegranate and rawghurt
So now that we have saved 50% of the population, come on over to

Twitter

and

Facebook

and brag about it!
Love and Rawghurt
°°Elenore°°